Nigerian actress Patience Ozokwor ('Mai Azuka' in town)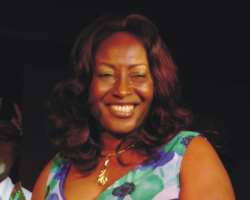 Top Nigerian actress Patience Ozokwor, popularly known as ''Mai Azuka'', jetted into Harare yesterday to a rousing welcome from stakeholders in the local film industry who thronged the Harare International Airport.
Business briefly ground to a halt when workers at the international terminal and several other people jostled to get a glimpse of the talented actress.
The popular actress, who is typecast as a wicked, vengeful, manipulative woman in her films, was all smiles as she chatted with both journalists and local television stars
"I am happy to be in Zimbabwe and I believe I will have a lot to learn and take back home with me," she said.
''Mai Azuka'' was expected to fly to Bulawayo last night to attend this year's edition of A'Sambeni at the invitation of the Zimbabwe Tourism Authority under its celebrity host programme aimed at promoting the country's tourist resorts.
Her presence at the annual travel expo is expected to generate a lot of interest among both exhibitors and the general public alike.
''Mai Azuka'' becomes the second Nollywood star to visit Zimbabwe under the ZTA's celebrity host programme.
Last year, it was Chinedu Ikedieze, a.k.a. Aki of Tom and Jerry fame.
''Mai Azuka'' is a popular actress who plays the role of a wicked mother, mother-in-law or stepmother in Nigerian movies.
She fits into her film persona so well that at times many people find it difficult to separate this from the real Patience Ozokwor, hence the nickname ''Mai Azuka'', derived from her stellar performance as a mother who ended up sleeping with her son-in-law almost breaking up her daughter's marriage.
In real life, however, the Nigerian actress is a proud and caring mother of four, whose first son is an engineer while the last is a footballer with Rangers International of Enugu.
She lost her husband a few years ago to a terminal disease.