Liz Benson Re-marries Atlast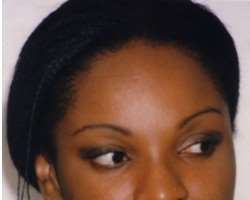 The Lord seem to be smiling on the widows in the Nollywood industry as screen goddess, Elizabeth Benson a.k.a Liz Benson 45, tied the knots years after being a widow with Bishop Great Ameye of Freedon Family Assembly International Church.
A mother of three (Richard, Roseline and Lilian), Liz lost her husband (Etim Gabriel Samuel) barely six years into their marriage. Though she had been linked with many men, none of the relationships led to the altar as this.
The registry wedding took place secretly at Area 10 Secretariat of Abuja Municipal Council (AMAC)on Wednesday April 8 2009, had friends and families in attendance.
Her husband, Great Ameye, we gather is a minister with Freedom Family Assembly International Church, Jesse, Delta State. Gist has it that the 49 year-old man is a widower who allegedly met our sweet Lizzy in the course of doing God's work. Their relationship has however moved from friendship to the altar and now man and wife.
Fully out of the widowhood circle, Liz Benson begins a new walk in the married life again.
Here at eNowNow.com, we say congratulations to Liz Benson for having waited this long and finally taking this bold step. We pray for a blissful marriage with lots of children (that is if the couple decide oh!)