See You in Cannes (Part 1)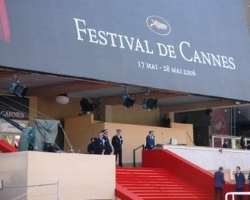 This morning we were at the French Consulate in Ikoyi for a visa appointment and Fidelis Duker, the COO of the Abuja International Film Festival was there as well. Supple magazine and a selection of Nigerian newspapers have been given press accreditation for the forthcoming 62nd Festival de Cannes. Fidelis Duker is one of the most hardworking professionals doing their best for the sustainable development of the $236 million Nigerian film industry.
The Cannes Film Festival is the biggest and most popular film festival in the world and attracts the top stars of Hollywood and Bollywood to the Palais des Festivals et des Congrès in Cannes south of France every May, but most of the so called leading stars of Nollywood are ignorant of Cannes. Supple magazine is going to convene the first forum on Nollywood and the Cannes film Festival to inform the Nigerian actors, actresses, marketers, and the general public on the film festival and why Nigeria should not be left of the competition at Cannes. Our goal is to challenge Nigerian filmmakers to compete for the highest honors at the Festival de Cannes.
~ Ekenyerengozi Michael Chima