Sexual harassment not rampant in modeling — Sola Duromola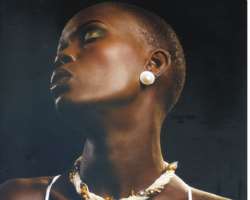 Sola Duromola dreamt she was going to be a big time lawyer as a kid. But after she was turned down for a modeling audition which made her cry, she resolved to make a statement in the industry. Today she is one of the leading names in the Modeling industry having featured in local and international shows. She shares her style and experience at the Face of Africa Pageant with Rita Ighodalo
Can you share your formative years with us.
Growing up was fun, I grew up in a Christian family; my parents had five of us, I am the third. I was born in Lagos and I had my education in Lagos, I wanted to be a lawyer and something else came up and I diverted my plans; my educational background was just a normal life, I went to Apata Memorial School for both primary and secondary but finished in Okota Grammar School and right now I am a student of Lagos Sate University studying History and International relations, I am in my fourth year.
How did you get into modeling?
A friend of mine introduced me, Doyin Hastrup is her name. I got into modeling like three years ago, my first outing was at St. Moritz Star Selection I went for the casting but I didn't make it in the top ten because I could not walk, I wasn't paid and I didn't know anything about thing and because I was not paid I went home crying and said that I will not do modeling again in my life.
How much was your first pay?
My first pay was N45,000 and I did a very big job.
How have you been able to manage challenges as a model?
I move on and I just try to be myself and be friendly.
How do you cope with overture from the opposite sex?
This industry is a mixed industry, so you see them more often and we get along well.
Have you had any regrets so far?
None that I can think of.
You have been like this for a very long time, how have you been able to keep fit?
I do not have any routine of food, I eat a lot and the only thing I do is that I work out
What has been your greatest achievement?
For now, I do not think that I have achieved much in life.
How do you see the industry in Nigeria and what do you think should be done to sanitize the profession?
The industry in Nigeria as I said earlier is growing and I think that there should be a body that will regulate the modeling industry because sometimes if you do a job you do not get paid in time and sometimes they pay you less than you agreed. So I think that designers and models should come together, form a body in order to regulate the system.
How have you been coping with sexual harassment in the industry?
Sexual harassment is everywhere but it is not rampant in this industry and life must go on.
How would you rate the modeling industry in Nigeria?
Modeling industry in Nigeria is developing and very soon we will get to the peak.
There seem to be a problem of homosexuals and lesbianism in the industry what do you have to say about this as it is not telling well of models.
It is not only affecting us its everywhere in Nigeria, in fact it is a British idea and because Nigeria is developing they say that it is part of growing up for them so they are also involving themselves in it.
What was your most embarrassing moment?
The day I fell down on the run way at This Day Fashion, Music and Festival Show and it was a live show.
Have you ever taken a nude picture before?
No but I have taken artistic picture?
You were used for the Globacom advert some time ago, do you think that you were paid fair enough?
For Nigerian level I think that it was ok.
How was your experience in the deal or no deal show?
It was a game show and it was fun, it gave me exposure both home and abroad.
I learnt that you participated in the Face of Africa pageant; can you tell us a little about your experience?
It was a competition within African countries and it was a learning experience. I was lucky that I came forth in the competition and that was good enough. From the top ten I made it to the top five and that was just the height it was really fun and I learnt a lot.
Who is your role model?
Alex Wek is my role model, she is from Somalia and we look alike and in Nigeria I look up to Ifeoma Williams who is a stylist in Nigeria.
What is your philosophy on life?
My philosophy about life is to put in your best and be yourself
What advice do you have for upcoming models?
First and foremost get a good agent and put in your best.
What are your fashion items?
I love wrist watches, sunglasses and my hair
Where do you see yourself in ten years time?
I see myself as a family woman, married with my children around me then I should be very successful in my career and I want my name Sola Duromola to be a house hold name not just in Nigeria but abroad. As a diplomat I want to be successful