Empress Njama my girlfriend? Ah! ha! ah! –Timaya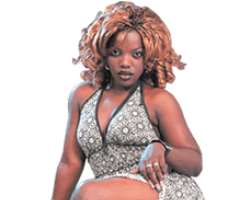 Bayelsa born rave of the moment, Timaya has for some time now been trailled by controversies. The most popular of all is that he is... dating Nollywood actress Empress Njama. In a chat with YetUnde Williams, Timaya disclosed how he is benefitting from all the rumours circulating about him, and the truth about the relationship between him and Empress, among other issues.
Not much is known about you except your music prowess
My name is Timaya, Egberi Papa 1 of Bayelsa. I am a musician and I started singing like 15 years ago.
Can you let us into your background/education?
I went to school. Just leave it like that. I am from Bayelsa State; from a polygamous family. My father had two wives and gave birth to 15 children and I am the last child of my family. My father is a retired banker and my mother is a business woman.
How would you assess Nigerian music?
Nigerian music is quite good now. Everyone is trying now, unlike before when we weren't recognised. But right now, we are making a whole lot of money. I believe in my music. I wasn't doing it for the money. I am singing for the love of it. But right now I am making the money so I am enjoying the money aspect.
What are your achievements?
My major achievement is the popularity and fame I have earned from people and that's the only thing I ever wanted.
Do you think you have got to that level right now?
I have got there a little, but I am still working. Omo, I wan pass Micheal Jackson o. Those days, I used to tell God I wanted to be a voice out of the noise. I just wanted one airplay from a radio station because I knew once they heard my voice, that's it. And I have got, that even if they like let them not play it again, my fans will play it on the streets, as long as they can reach out for my CD, no trouble meeeen....
What have your challenges in the music industry been like?
Of course, so many challenges. When I was coming up and becoming Timaya, trying to become a paramount person, trying to be the voice amongst the noise, my parents never wanted me to sing. They wanted me to go to school. My mum wanted me to be a banker. I tried but book no gree enter my head. It wasn't my fault and no be by force, because all I wanted to do was music then. Because I love and have passion for music and being in music is no joke. You need a lot of resources, like money, people, to help you grow because no man is an island. I never had money to produce an album then or to shoot a video or to package myself. So, I had to start from somewhere which made me work with different people at a point, I worked with people like Eedris Abdulkareem, Basorge Tariah, Daniel Wilson etc just because I wanted to be Timaya, what I realised is that all these people were ladders and hurdles I needed to cross and deal with.
What is your real name?
My name is Inetimi Odon.
What advice do you have for upcoming artistes?
They should keep working and rehearsing, because there is no perfection without practice.
How would you describe yourself?
I will like to talk about the way people see me. They see me as one very arrogant, stubborn militant boy but I am not bordered o. It helps me because I am a very playful boy. Before you come talk to me, you must be ready for anything. I get angry easily. I don't like people trying to take control of me. I won't do it to you so don't do it to me. That's why I don't keep friends, my boys are my brothers. I like it my own way, if you can't go my way then go. I have been like that from childhood, so I can't change.
How did you come about Egberi Papa 1 of Bayelsa?
It's a title given to me in Bayelsa State.
At what point did you decide to go into music?
I used to be a choir boy. I went to different churches. I have been singing for a long time, right from when I was in primary school. I have been going to different shows from secondary school, that was when I knew this is what I want.
Do you play any other musical instruments?
I play the piano but I am not very good at it, and I play drums.
How many albums have you produced so far?
I have produced two. True Story and the present Gift and Grace.
Are you married?
No.
Are you in a relationship with anyone?
I have girlfriends, but I love one and I am not ready to love any other person anymore.
So how do you cope with your female admirers?
Anyone I like now, it's not everybody that wants you that you want. It depends on the one that you want. If she wants me and I like her, then we want ourselves.
Who is your favorite designer?
Me I no dey look all those things o, but I like YSL M7, that's what I wear but sometimes I like to mix it, as long as it smells good, fine.
Are you a religious person?
Yes o, I love God die! apart from God in this life I don't give a hoot about anybody, every other person is stupid to me apart from God.
Have you had tours outside Nigeria?
I have been to places but I had my major tour in Europe. I have been to 13 cities to perform, which lasted for about two months and I don't think I will do it again.
(CWhy?
Cos I almost died. They didn't want me to come back, they were so into me, it was lovely but I don't want to go back.
Don't you think that should be the spirit to make you want to go back?
(Laughs) I don't think I need that kind of spirit to go and die. I am a local boy. I cannot eat their kind of food, anything wey never pass through fire I no fit chop.
What is the boldest step you have ever taken?
I dey take many many bold steps o, but I will say the boldest step I have ever taken will be when I left school to do music, boned everything, leaving my father's house and my family, everything, for music and it's working for me now.
What was growing up like for you?
Growing up was hard for me because I left my parents' house since I was 14 years old, all in the name of music. They even looked for me because they thought I was dead, but I went to live with my aunt and later my friends. That was how I met my friends that are now my soldiers now. We have been through thick and thin of life. We once lived in a one-room apartment; all of us, doing things together all in the name of music. I do to them what I do to myself. I can't say I want to travel by air now and ask them to take a bus, NO! If I travel by air they will and if I am taking a bus they will as well because we have been through the hurdles of life together. So, why can't we enjoy together?
What is your philosophy of life?
Omo, just take it the way you see it and be yourself. Just ginger your swagger, don't care about anybody. Make yourself the paramount person, just live your life because even your father will not want to die for you, he can only cry for you.
If you have to change anything about yourself right now, what will it be?
I am a very temperamental person. I have got so much temper. I can be playing right now and the next minute I could be angry and when I get angry I can scatter things. I can only calm down when I see the person I love but if I don't, my life can be just frustrating to me and to people around me. I don't sweet-talk people, I don't talk to soothe you, I can just talk and don't care about your feelings. The important thing is that have aired my mind and if you like, you carry your head and break for wall, I will still take you to the hospital.
How do you unwind?
I don't hang out like that, I just have fun. I don't plan my outings, like yesterday I went out with my brothers not that I planned it just because there was traffic on our way back from the island, I just thought we should stay back and have few drinks. I don't hang out because I don't have friends and I choose not to.
Name one thing you wished you ever had?
The power to sentence liars to death. Seriously, because what people write about me, it's all lies, they just conclude on their own. Like the recent show I went for, I wasn't the only musician that went for it but I was the only one that was talked about. The controversy was what made them talk about me. Whether you like am o, whether u no like am o, Timaya don blow eee. You cannot reverse it. I took off my trousers on the stage and danced with a mannequin because that's what I felt like doing, I am an entertainer. The most painful part of my life now is being Timaya, I used to like all those okirika clothes, that's where you can get the best shirt from, but I cannot go there anymore, because right now I can afford a shirt of N70,000 and it might not be up to the one I will get in okirika for N800. It pains me meeeen. I need to be real and be myself. That's why I cannot leave Port Harcourt. In Port Harcourt, I can go anywhere, like I go to my suya spot and buy it myself. If I like, I take okada to look around town, go to my Mama Put joint because I feel that's my hood. But here in Lagos if you do all those things, they will say you are not packaging, what are you packaging for when you don't have money.....(laughs). They say I brag a lot about myself, it's because I don't gossip, I can't sing about people, breast, yansh, wine etc. I am real. I talk about things that are happening.
Tell us about your ideal woman?
First of all, the girl must be fine and have a big yansh. She must also know how to speak good English, must have a good behaviour, she must respect me because I love to stay and be in charge.
Are you in a relationship with Empress Njama?
No.
Is it true that she's carrying your baby?
(laughs) No o, maybe her boyfriend got her pregnant.
So how come there are speculations about both of you?
She's my friend. She's an entertainer and I am an entertainer, we are both entertaining. I sang a song for her because I love controversy and I got it. It shows and tells how they have fish brains. So, I can toy with their brains and minds. I am just an entertainer. I know the job. People will be like, you don hear the song he sing for Empress? And they will be foolish enough to go buy the CD which makes my marketer sell. Na me still talk am, some people wanna write about me, everybody say na human being, so tey dem say I smoke marijuana, dis marijuana don make me dey hammer. I was talking about Empress and I hope they know because they said we both went to a hotel in Abuja and smoked (marijuana) the whole place down. They have said a lot of trash about me. So, tell me, how I no go pluck that person wey write such thing eye commot give am make him chop wen I see such person. Don't I have my life to live? Wetin concern them, because she be star? So what...if I dey friend armed robber, it's not any of their business and she's not my girlfriend.
What inspired the collaborations in your new album?
I have myself and my soldiers in my new album, they are still me because they are under my record label (Dem Mama Records).
Are you now based in Lagos?
I can't come and settle here. I just got a house here because I don't like hotels. If I stay in a hotel I feel I am wasting my time and money. I got this place because I need my privacy and I love my privacy. I have a house like this in Port Harcourt. if I have my way, I fit get house for everywhere because I don't like hotels.