Rebranding Nigeria without musicians will not work — Zaaki Azzay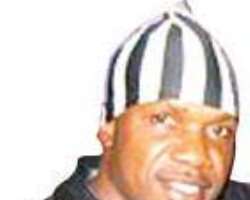 Some decades back when he launched his musical career as the torch bearer, many thought his emergence in the scene will be as short-lived as the batteries of the many torches he carries about but Zaaki Azzay has shown consistency, creativity and an attitude that points to the fact that he has come to stay in the Nigerian and African music entertainment circle. In this interview with AHAOMA KANU and RITA IGHADALO, Zaaki opens up on why the new generation artistes were able to break the odds and achieve feats seemed a mirage for a ling time. He also has an advice for the Federal government in their re-brand Nigeria campaign. Excerpts
The entertainment scene in Nigeria seems to be on recession could it be that the Global financial meltdown is affecting it?
Entertainment is basically a mending point even in terms of war, crisis, and difficulty. It has always been like a bridge to control people crime has been no the high side, risk has also been on the high side a lot of bad things will be no the high side without entertainment. I do not think that the financial melt down is affecting entertainment.
From the time you came on board the scene and right now, how would you assess the change that have happened?
Now the major change that is shocking to me is that has happened over night is that Nigerian youths have finally have embraced Nigerian music 100 per cent that was not the case before things have changed now. What is happening now I thought would have happened in the time of our children not now. Nigerian entertainment is like you sleep and wake up one morning and see that everything has changed. I am very happy that it happened in my lifetime.
Many of the older generation musicians are no longer there as it were will it be blamed on lack of inconsistency?
Well that is a difficult question but I think that it has a lot to do with creativity because if you are creative enough then you can make it. Lets take LL Cool j for example he started in 1992 with I'm in love and till now he is still singing, Mary J Blige is a grand mother and she is still singing, if not for what Whitney is going through now every time that she comes out everybody must give way. So I think to an extent that it has to do with creativity from the part of the elderly musicians. But this generation are more daring it is a one way track we can't afford to fail, they come with all enthusiasm, energy and effort ; most of the live in a studio in their house they do not even sleep they work very hard.
Zakky Azzy has become a brand especially for the attitude, how were you able to create, build and maintain the brand?
When I was starting there was no hip hop music but reggae, and it was like I did not know what I was doing you had to wear dread locks I didn't know how to do that it was in 1993, I had serious problem a recording company would not take me because I was doing hip hop. I wanted something that was positive I believe that if you are famous then you are a role model a lot of people should be able to look up to you. I remember when I was growing up as a child I was always uncomfortable when I sit with my parents and they are showing a music video that was vulgar I wanted something that I would not be ashamed of even when my parents were watching, I wanted something positive that the youths would emulate. What I am telling everybody is that you cannot make it without God.
Looking at the musicians that we have today, they have won some remarkable awards internationally as compared to older generation musicians what do you think attribute contributed to this fact?
Its because at that time during the older generation, Nigerian music did not receive the kind of attention that it is receiving now, they have come of age no more Nigerian music but international music because we are singing with our contemporaries in other countries now, we get to see a lot of American, UK musicians coming here now to do collabos with us and we travel to their own countries to perform. The market is one market Nigerian music has met the standard of international music.
We have also come to notice that songs by older artists like Mandators, Onyeka Onwenu, Majek Fashek had a message but the songs we have now are void of messages but are so celebrated does it mean the world is going nuts or that they celebrate mediocrity?
There is no short cut to success if you sing trash you end up in trash there are no two ways about it. These people who are doing all these kind of songs now enjoying air play and think that they are making it will crash except they change, you will agree with me that Asa's music will be till eternity people will always refer to that music like they refer to Bob Marley; I've been around for 15 years now I've had plenty songs give me one song that I have ever done that does not have a message, none. What I am trying to say is that if you sow garbage you reap garbage it might not show now but in the long run it will.
How challenging is it for all these elderly artists to remain consistent in the midst of all these garbage we are hearing now?
The problem with most of these old school artist is that they are not flexible they do not want to agree with the taste of time, everybody has changed. If you do not change nobody will patronize them they will become an island. I am not saying that they should change their music I am only saying that they should change the packaging of their music it might be the same singing style or instrumentation.
Now we are experiencing a new economy where Nollywood actors and actresses are trying their hands on music; we see Omotola, Genevieve, Desmond, Jim Iyke how would you react to that trend?
All I have to say is that I think it is only easier for musicians to go into acting than for actors to go into singing because somebody that is talented music-wise should already be able to act. so far I have not seen any actor that is successful musically, you do not choose music it chooses you cannot wake over night and choose music if you are smart enough you will know whether it is choosing you or you are choosing it.
The minister of information Dora Akinyuli is on a rebrand Nigerian mission how can the music entertainment industry contribute to this?
Music is the only thing that can rebrand Nigeria within three months it is very possible in fact two months she can do it in two months. I think that is what we should focus on the problem with music today is marketing you must think marketing. And the government is not doing anything about music or marketing. If Dora really wants to rebrand Nigeria and save cost because we like to waste money as far as I am concerned if she is not going to use entertainment to rebrand Nigeria then she wants to waste our resources. Globacom is the most popular network because they use celebrities, let us use them as a case study we were suffering in this country with MTN'S N50 per minute before Glo came and they gave Nigerians 100 per cent and it was from Glo that I knew that it was possible to do advert in Nigeria, it has never happened in this country everything South Africa we import and do everything in South Africa until Glo came. Do you know how much money Nigeria would have made because of Glo because every other organization started using Nigerians for their advert now all that has changed where you see Guinness advert and Michael Power that is rebrand Nigeria people that are really rebranding Nigeria is Globacom. So why can't take cue from Glo, what did Glo use entertainment so entertainment is the mirror.
What would you say about Nigerian artists that are now going abroad to make music videos?
We had a seminar in Eko Le Meridian organized by the Nigerian Music Video Award (NMVA) and they are saying that they would not give awards to videos that were shot abroad. The people who shot their videos abroad and my video that is on air right now and compare them its either mine is better or they are not better. There are lots of videos done here that are better than what they do in abroad. Why is it that when they do videos abroad they still carry a Nigerian producer and a director to go abroad. They brought an Oyibo man from abroad to direct a video here and he couldn't do anything. I travelled with Lagbaja to South Africa to record a song for Globacom Lagbaja was correcting the engineer in the South African Stadium the biggest studio in South Africa for that matter.
What are you working on right now?
I just released my new single, the title of the album is Speed and it is coming out very soon.
How long will you be the torch bearer?
As long as I live, in fact when I am going to be buried there will be a lot of torch light in my coffin, the torch represents a convenient between me and God it's like lead me on, show me the way.
What is the highest amount that you have spent on torches?
I bought one in Germany that cost N80 000; its very long rechargeable torch that is water resist.
Do you usually carry your torch light when ever you travel?
Very well, in fact when I travel out of Nigeria I do not wear English clothes, I dress to show that I am a Nigerian, but in the airport I am always told to remove the batteries because they are explosive.
How do you feel if you are caught without a torch?
I have not experienced that because you cannot catch me without a torch light even if I am sleeping, the moment I stretch my hand I get my torch.