Omotola in smoke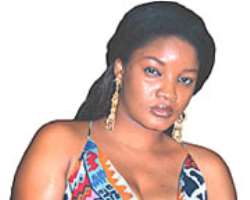 We've been wondering where Mama Princess and star actress, Omotola Jalade Ekeinde had been. Somehow we've not been able to see or hear from her, but all that changed during the week when we suddenly woke up dreaming of her. We put a call across and were told that 'The Smoke' a soap opera from her stable, Red Hot Concept, has been the reason for her unavailability.
The Smoke is the first major project close to movie-making the star actress has embarked on. And from what we were told, it would hit the market in a matter of months.
The Smoke centers on four ladies and their lifestyle. One of the ladies is married while the other three are single and searching.
Gbenga Richard, Larry Koldsweat, Segun Arinze, Bhira of Ambo, and Omotola herself throw their weights in the soap that was shot in three estates scattered around Lagos.
Unlike other soap where small press conferences herald their coming, Omotola is planning a massive premier in Lagos and major cities across Nigeria. Corporate sponsors are already knocking on her door and she is weighing her options. The soap will be on major TV stations across Nigeria and satellite stations across the globe.
Meanwhile, Omotola had finished works on her album tentatively titled, 'Feel alright'. The album has 12 tracks and Del B and Paul Play produced it. She is presently shooting videos to herald it release. 'We want to correct the mistake she made in her last musical journey. She did not shoot any video before releasing the song and that really affected the sales though it did well relatively', a close source told us.
Now that we know what's been keeping the wife of Captain Matthew whose birthday was lat Monday busy, we won't go on worrying anymore.