You're wrong.I started Nollywood-----Jide Kosoko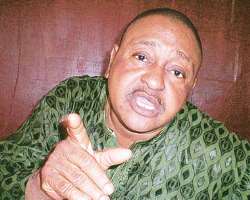 Living in Bondage. Remember that Igbo movie? The year was 1992 and the nation was agog with the movie, which was shot on VHS camera format.
Within a couple of years, relying on the VHS camera format, the motion picture industry churned out an array of stars like Omotola Jalade-Ekehinde, Genevieve Nnaji, Segun Arinze, St Obi and Ramsay Noah among others.
However, as the industry transformed into a brand, a fresh controversy arose over its origin. While Okey Ogunjiofor, the producer of Living in Bondage is hailed as the pioneer of Nollywood in some quarters, veteran actor, Jide Kosoko strongly disagrees.
In a chat with National http://nollywoodgists.com last year, he had described reports attributing the birth of Nollywood to Ogunjiofor's Living in Bondage as an attempt to rewrite history. He buttressed his point by arguing that the same year Ogunjiofor produced Living in Bondage, he also released his own movie, Asiri Nla, which he claims displaced Living in Bondage.
Last week, http://nollywoodgists.com stumbled on Ogunjiofor at the just concluded 6th edition of BOB TV in the nation's capital, Abuja.
Ogunjiofor reacted to Jide kosoko's statements.
"My brother, I don't want to join issues with Jide Kososo. He is a man that I admire so much. He is a prince and I have great regard for his person. The reason I say so is because he has been in the industry for a long time and he is one of the finest actors we have. But when it comes to the issue of when movie industry started in this country, I am not going to claim that I started it. The Ogundes and Ola Baloguns of this world were there before us. However, the films that they did never translated to an industry such as we have now. It was my experiment with VHS that changed all that.
"Let's look at Ashiri Nla, how many people saw it? But Living in Bondage was everywhere, so it dwarfed Asiri Nla. People copied the one that was visible. It was Living In Bondage that successfully experimented with this new cheap technology of making films that even people on the streets could now shoot movies. Those days of big formats and big budget films are over! Celluloid would die naturally globally. Digital video is here to stay. Weather they like it or not, celluloid is going. I trained in celluloid but it cannot sustain us," he said.
Ripped-off
Egunjiofor sensationally disclosed that he got a miserly N1,500 as payment for producing Nollywood's first movie.
"What I made was just N1, 500. That was all that was given to me by the man who sponsored the film. The agreement was that when he recouped his initial capital from sales, we would share the remaining money. But it wasn't to be; you know the average Nigerian. I felt cheated for a very long time. Lawyers even came to me, advising me to sue him. But the name and the fame that came from the movie began to overwhelm me and I asked myself, why fight this man who gave me a chance when no one would? He believed in me and staked his money on my dreams and it turned out so well. So, what was the point in sueing him? I felt it was the prize I paid for breakfast."
Once upon a hawker…
Like the popular saying goes, Neccessity is the mother of invention. Before he produced Living in Bondage, he was a hawker who sold women's products across the length and breadth of Lagos.
According to Ogunjiofor, after he lost his job as Power Mike's manager in the 1980s, he fell into hard times and so, he resorted to hawking as a way of raising money to pursue his dreams of making movies.
"When I left school, there was no platform to exploit what I really learnt in school which is film making. So I had to resort to hawking to raise money. After so many years of hawking women's products on the streets, I finally met a man that believed in my dreams. I did not hawk as a nobody; I hawked as a graduate, as someone who had held an office with Power Mike Promotions as General Manager. When he relocated to the East, there was no other place I could work because those who studied film were seen as dropouts. So I said to myself instead of dying of hunger and pretending to be the big boy that I am not, how about finding a way around it."
Nollywood
According to him, he never believed that Nollywood would become as successful as it is today: "I did not know it would be a force to reckon with," he said waving his hands for emphasis. "If I tell you that I had it coming, I would be lying to you. But I knew that the film industry's a very big one. I was doing something new and I did not really know its potentials. I did not know that we would become an international force to reckon with. I did not know that it would become a voice that would speak for Nigeria and Africa. I did not know that it would land us the third position in the world. I did not know that it would transform into a tool that could be used to re brand Nigeria. I was just doing it to survive."
Despite the success of Living in Bondage, Ogunjofor has been consistently missing in action. Today, while pioneers like him have faded into the background, those who knew nothing about how Nollywood started are smiling to the banks. However, he took a philosophical position.
"It is a normal situation," he rationalized. " it's a natural course. Sons would always be bigger than their parents. Any father who is not happy when his children are progressing is a witch! I am not one. I am a very happy man. Look at what is happening here to day. Its happening in The USA and UK and South Africa. People are talking about Nollywood. I don't care whether they know that I am the one or not. I am happy. My joy is that God used me to do something that is so big and people are earning a living from it. I was once on the streets and I did not find it funny. It makes me happy that what I started has come this far."
Current project
"What I am working on now is what I call the African Audio Visual Awards (AVAA). The award is all about sound and picture; perfect sound and perfect pictures. For the 17 years that our industry has been in existence, the only problem has been sound and pictures. I believe there is a need to up our game a little bit by instituting an awards through which Nigerian movies blazing a trail could be rewarded.
"Since Hollywood and Bollywood can shoot their videos digitally and still maintain good sound and pictures, then it is possible for us to do the same thing here. And the way we can jump start the process is by instituting an award. It would promote healthy rivalry among stakeholders."
Fulfillment
17 years after the success of Living in Bondage, is he fulfilled: "Yes, I am fulfilled. But if you are predicating fulfillment on money then I must tell you that I don't measure my fulfillment in terms of my account balance. I have made such a big name that even if I die today, I would be mentioned in the Book of Life. My name has gone into the history of this nation and film production as far as Nollywood is concerned, globally."