CBN: Who's in charge?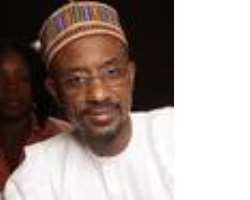 A new era of the CBN Governor as the brutal financial plumbing inspector may be underway, or so it seems, with the arrival of Sanusi Lamido Sanusi at the helm of Nigeria?s apex bank. The urbane intellectual who succeeded Charles C. Soludo as Nigeria's new Central Bank Governor has combined a long career in commercial banking with studies for a degree in Islamic law and his duties as a Prince in Kano's royal house. His grandfather, Alhaji Muhammadu Sanusi, was the Eleventh Emir of Kano.
An appointee from Kano (as are the ministers of Finance and National Planning), Sanusi attracted criticism from southern politicians, led by Tony Anenih, who objected to a third high-level post going to someone from Kano. But all such entreaties bordering on respect for the national character fell on deaf ears as Yar'adua went ahead and appointed Sanusi to the coveted position. Now, the new CBN Governor wants to be his won man. The question is: will the President give Sanusi a free hand?
Sanusi has shaken up the financial sector with calls for stricter regulation, more transparency and accountability. He is also willing to allow more foreign banks to take controlling stakes in Nigerian institutions. The United States' Citibank's highly profitable stake in Citi Nigeria is one of the few locally incorporated financial institutions in which foreign investors have a majority stake.
Rising from his first Monetary Policy Committee (MPC) meeting since assuming office, Sanusi announced a new strategy to check the rising lending rate in Nigeria. It involved cancelling the Expanded Discount Window lending as well as compelling banks to publish their health status March 2010. It also involved capping of deposit rate at which funds are fixed in banks at 4% and forcing banks to guarantee loans at the inter-bank market as well. The guarantee, which is with immediate effect and is to last, in the first instance, till March 31 next year, is also to cover placements with banks by pension fund administrators.
Sanusi wants the CBN to be granted the authority to monitor and increase surveillance of Nigerian banks, insurance companies and pension funds to identify potential red flags before any major crisis erupts. Against the advice of President Yar?adua's economic team, Sanusi is insisting on easing monetary policy and allowing the exchange rate to float.
Huhuonline.com has learnt that Sanusi wants to make a u-turn from his predecessor, Soludo, whom he accuse of squandering over $5 bn. trying to shore up the Naira against the US dollar. Sanusi has also faulted Soludo for allowing a host of bad banking practices to go unchecked.
A recent report by the authoritative Paris-based French language magazine Jeune Afrique classified only four of 24 banks in Nigeria as strong. The classification has created panic among Nigerian banks, especially those classified as "shaky" and "stressed," as reports indicate that bank customers are poised to make sudden decisions based on the strength or weakness of their banks.
But some of the banks described by the report as shaky and stressed, including: Access Bank, Ecobank Nigeria, First City Monument Bank, Intercontinental Bank, Oceanic Bank, Sterling Bank, Union Bank, First Inland Bank, Spring Bank (pending takeover appeal), Unity Bank and Wema Bank have dismissed Sanusi?s warnings as scare tactics and a de facto attempt to micro-manage the banks.
In contrast to his predecessor, Charles C. Soludo, who was comfortable with looser regulation and close to several senior banking executives, Sanusi warns that he is prepared to force out bank chiefs who flout Central Bank rules. His criticism of lax management caused several banking executives, led by Oceanic's Cecilia Ibru, to campaign against his appointment.
Although Nigeria?s financial sector was comparatively insulated from the first phase of the global economic crisis, Sanusi has sounded the alarm bell to President Yar?adua saying, as world commodity prices fall and export markets shrink there is now a threat to Nigeria?s real economy. These pressures could increase the credit risks and non-performing assets for Nigeria?s financial institutions and companies.
Plummeting oil prices, rising inflation and a chaotic foreign exchange market are amongst the major challenges facing the new CBN Governor. The steep fall in world oil prices, from highs of US$145 a barrel in July 2008 to around $40 a barrel now, has battered the economy, which depends on oil receipts for 90% of its foreign exchange earnings.
Oil Minister Rilwanu Lukman and Finance Minister Mansur Mukhtar are leading Nigeria's management of its worse economic crisis for two decades. Optimists believe Sanusi together with Mansur Mukhtar and Rilwanu Lukman will constitute a trio of reforming technocrats, to counter the influence of Attorney General Michael Aondoakaa and Chief Tony Anenih, the fundraiser for the governing People's Democratic Party (PDP).
Anenih is Nigeria's ultimate political survivor. His return as Chairman of the Nigeria Ports Authority says more about Yar?adua's ethical standards than Anenih's technical skills. Thirty years after entering national politics, Anenih was appointed Chairman of the Nigeria Port Authority, the government's second-biggest source of revenue and a byword for corruption and inefficiency.
It takes over 28 days to clear Nigerian ports, one of the world's longest waiting times. The NPA chairmanship is one of the most coveted items of presidential patronage outside the oil sector.
But Sanusi, sources told Huhuonline.com, seems to have little time for the political elite and the PDP, whom he holds in very low esteem because they are corrupt. After the 2007 elections, Sanusi was quoted as saying of the PDP; ?Maybe they (PDP) have gone far, far beyond what anyone would have expected they would do, but I think everybody knew that they were going to rig the elections.?
Sanusi's relationship with President Umaru Musa Yar'Adua will be interesting. A few days after he started work at the Bank on June 1st, Sanusi asked that Yar'Adua's 'seven point' agenda be scaled down, given the financial crisis. But the government disclaimer of the CBN Governor was quick ? a brutal reminder to Sanusi (if indeed any was needed that Yar?adua is the boss). Better clip his wings else the new CBN Governor will take flight, sources at the Presidency told Huhuonline.com.
The buck will ultimately stop at the President?s desk and whether or not Sanusi will have his way, now that the battle lines have been drawn remains to be seen. But the question remains: between Yar?adua and Sanusi; who is in charge at the CBN?
|
Article source