I GOT LESS THAN $5 FROM MY FIRST MOVIE -NKIRU SYLVANUS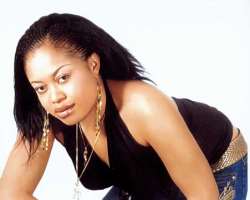 Nkiru Sylvanus could be said to be one of the very few actresses who have climbed the ladder of success through dint of hard work. She emerged on the scene in 2000, in the movie, Cry For Help. Her above interpretation of her role in that movie has not only left a lasting impression in the heart of producers, it has left her permanently in the consciousness of Nollywood fans. In a recent exclusive interview with Africanmoviestar.com, Nkiru opened up on how it all started.
According to the fair-skinned actress, growing up in Aba, Abia State and having to watch actors and actresses on television opened up a new vista to what lays ahead for her in life. And that when it came to choosing a career, acting became the first choice on her mind. This, she said, was because she found out that she stands to make a name for herself quickly through acting than any other profession, and the money involved was also another incentive that made her take to acting.
Hear her: "I need to make a name for myself through acting, and the money I stood to make so I can take care of myself were all I considered while making up my mind on the career to pursue. And when I did, I found myself picking up movie roles quicker than I expected."
Nkiru went down memory lane and told us how her strict family background has kept her focused since she emerged on the movie scene with the hit movie. According to her she grew up in a family of seven with a policeman father who installed discipline and brought them up with very strict and proper manners in her and her siblings, which has always kept her on her toes.
"My father was a disciplinarian and the discipline he gave us is what has kept me away from silly controversies that surround most of my colleagues in the industry."
According to her it was a herculean task convincing her father that she wanted to become an actress. "It was not an easy task but in the end, I had my way. He gave me his blessing but not without the strong warning that I should not forget where I'm coming from."
Known for her roles as a crying actress in most movies she has featured in, we took her up on why she takes up the roles of one who is too emotional, and she revealed that she does that because film producers and directors have always casted her for such roles because, according to her she does it well.
"Producers like to cast me in roles where I cry a lot; they give me emotional or romantic roles to interprete and since I'm earning my money, I just have to do what they instruct me to do."
For an actress of her calibre who ranks as one of the prettiest faces needed in most love movies, you wonder what could have been her opening fee in the industry in 2000. Beaming, she said it wasn't much and that at the same time, it couldn't have been anything more than N5,000 but that what mattered was that, she was ans is still happy doing what she has always wanted to do in her life.
"It is a long time now, but I want to believe that it was about N5,000, but I wasn't doing it for the money then, but for what I believed I wanted to achieve and looking back today, I think I'm happy that things have gone on well for me in Nollywood," she admitted.
To some arists, taking part in a movie depend on the script and Nkiru is no exception to this rule as she said that as she said that she accepts any good script that has a story to tell and lesson for the public from the movie, when it goes into the market.
To her, " I will take movie scripts that will impart positive lessons on the society and make me a better actress; I will never accept scripts that do not meet such requirements. I refuse such without thinking twice ."
In one of the movies she has been in titled, New Jerusalem, Nkiru played a rather queer role of a wayward girl whose mother was a religious woman in the day and, by night a criminal; a role many have not stopped asking why she took up.
" I had wanted to do something different from the crying girl stuff that a lot of people have associated me with, ut at the end of the day, I was surprised that many of my fans started judging me by that roles. I was disturbed that my fans thought that I am actually the girl I played in that movie, New Jerusalem but away from that, I'm just the girl next door who is down to earth and can do anything to please my friends."
Nkiru also confessed that it has been only through hard work that she has been able to keep her head above board in the industry, as she is not one of those who cut corners to attain undue popularity in the industry.
According to her, " I have been able to get where I am today because I believe in hard work and I am not like those who would want to cut corners to achieve success and I owe it all to God for guiding me to where I am today."
With her beautiful look and fair skin, which usually attracts most men to her it is natural to want to know how she copes with the attention from the opposite sex. Nkiru said it is all about being diplomatic and that is what keeps the men close enough but far away.
" I deal with men in the proper manner without being rude but many would still not understand why I would not date everyone who comes my way." she said, while revealing that she is not ready for any serious relationship for now because she's taking her time to find the right person and would know when the right man comes her way.
Asked if she would consider dating someone in Nollywood, Nkiru said her colleagues in the industry are humans, and if any one of them comes with genuine intention of settling down with her, she might consider the person.
On her most embarrassing moment, he said it was the day when someone came from behind while in a shopping mall in Enugu and lifted her up and spun her in the air to the surprise of unlookers.
The actress, who grew up in Aba, said there are certain habits one overgrows in life and one of the such is the tendency to exhibit the character traits some people who live in Aba are known for.
"If it were about five years ago, I can answer you straight away that I would spoil for a fight with anyone who crosses my path, but not anymore now," she said smiling.
As a romantic person that she is at least in movies, Nkiru said she'll do everything for love except killing herself. Though a fashion freak, Nkiru revealed that she's not choosy, and that she shops everywhere she goes be it Lagos, Enugu, Italy, London or Paris.
Recalling the first time she travelled abroad for holidays, Nkiru says she was surprised seeing so many of her fans who came out to have some nice time with her, an experience which gladdened her heart seeing people outside Nigeria appreciating her for what she is doing in Nollywood.
On the qualities her dream man must have, she said, "My man must be hard working, industrious and God-fearing and above all, romantic." This she said, is because she believes in her man being the centre of her world and would want to remain hopeful that the right man would come her way.