I Won't Act Nude - Hilda Dokubo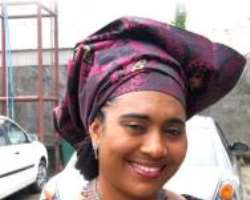 Delectable Nollywood star, Hilda Dokubo is a lady of many parts, particularly when it comes to entertainment. Apart from being an actress, she is equally a songstress and a teacher. That of course, does not make her a jack of all trades and a mistress of none.
The Rivers State-born actress has paid her dues in the entertainment industry and can always hold her own in the star-studded movie world in Nigeria.
In this Special Interview with http://nollywoodgists.com, the actress offers an insight into her private life and what makes her tick. For her, acting nude is out of the question because she considers it absolutely impossible. Excerpts:
Who are you?
My name is Hilda Dokubo, I am from Buguma in Asari Toru Local Government Area of Rivers State. I attended St Mary State School Aggrey Road, Government Girls Secondary School, Harbour Road and University of Port Harcourt. I have Bachelor's degree in Theatre Arts and Masters in Education. I am an entertainer, I am a social activist. I am also a teacher. It's difficult to describe me, but I will like to say, I'm a human being. I'm a good Christian and I love God so much. I believe in justice and equity, I believe in Nigeria and I love being a Nigerian. I'm one of those people who would like to show up to the fact that I'm a Nigerian. I'm not embarrassed by being a Nigerian. I have created beautiful picture of who I'm and being a Nigerian, I think that the possible picture is going to work. I think that's as far as I can go for now.
What you find yourself doing now, was it your childhood dream?
If I lived my mother's dream, I would be a lawyer. I lived my dream. When the whole thing started I didn't know it is a career but my childhood activities. As a little girl, I loved to entertain people. I loved to sing, I loved to dance. If a person is difficult to understand, I mimic the person's voice to let you know who is speaking and all that and these little child activities became a tool, let's put it that way because at a time Rivers State wanted a child to present a children's programme in television and they were going around looking for a child who would do this, I was asked, someone said let's look for Dokubo's daughter, then I took over, and she was happy. I just told her what I wanted to discuss and she allowed me move on. From doing that little children radio progrmame, the programme became a television programme and then when it was time for Rivers State Arts and Culture, they had prepared a children script and I as a little girl played the lead. And again, they wanted a little girl and they were going round secondary schools in Rivers State looking for a girl to sing that out and they arrived at Harbour Road and initially we were sixteen and then turned thirteen down and we were only three left and finally I had to play the role. And as God would have it, we came home with a Gold medal. And that was how I moved to joining the Rivers State Arts and Culture as a part time child actor because I was not old enough to be employed, so I was a kid presenter in Radio Rivers, I was kid Actor, Rivers State Council of Arts and Culture, I was child presenter, Nigerian Television Authority, Port Harcourt Channel 10. So I had a marathon kind of life as a child, going to school, being picked up by an adult to do programme and being brought back. And my life went on like that until I was in form five and again, they were going to establish Rivers State Television and again they said, oh, send in that girl to go and open that station as a continuity announcer and I went and became continuity announcer until I wrote JAMB. And again I was one of the little ones who didn't have to write WASC twice or to write JAMB twice so I wrote once and got admission into the University. It was natural that if you had done that from age seven to sixteen you should know where you are going. So when I was going to school, the chances for law became slim and the chances for theatre arts became broader and I went in to read theatre arts. After graduation, I went to Lagos to do youth service and again went to do home video and we became pioneer of Nigeria home video. I became a star, got several awards. And again thought of coming home, I am a home girl. I love where I came from. I am a proud Rivers girl. I tell you, I don't care what you think, I'm a Rivers girl, I am Ijaw, a Kalabari, I tell you even before you ask because I'm proud of who I am.
Again I came home to do what I thought I owe to my people. Before this time, all I heard and read about was that Rivers people don't want to go to school and don't like hardwork. But we love school, we love education. We are happy people. We are proud people. So when did we become so cheap as not to loving hardwork? It's cheap people who don't love hardwork. Very strong character people love work so when, did we become that cheap. I am one of those who believe that you must start from down and go up and that informed my drive with working with young people all the time, So, I started again with young people until without knowing that people were watching, the Rivers people say as… youths, when I was giving what I was giving I was simply giving back to the society. I felt since I was educating people I felt I should understand teaching methodology, then I said let me do education and I did teaching methodology so I will be able to effectively inform people. I did my Masters in education. I want to work with the people, be with the people and speak for them even when most people won't speak up.
Any regrets?
No regret. What I should have achieved as a lawyer, I'm achieving as an entertainer and a teacher.
How much money can you be paid to get you act nude?
Nude! I can't think of that. My acting really is not propelled by cash. Every story has to be a life changing story for Hilda Dokubo to get involved. I'm not moved by money. I'm not a multimillionaire, but I'm also not a poor person. God is very kind to me and He has always provided every thing that I ever wanted. So it's impossible to get me to act nude. Absolutely impossible. It is a no imagined situation. I won't do it.
Are you worried that Nigerian actors today get to that level?
No, movies are classified. Some people like blue movies and they think they don't mind. It's individual choice. If somebody chooses to be with blue movie and it's okay with the person, fine. It's going to be rated 18 and clearly adult game and I'm sure it's also going to be restricted on the shop. It won't be on open television. But if you say something is for home video, it is also for home viewing, mother, father and children and nobody wants to give to the children what they are not ready for. I'm not worried about people going into blue movie. Movie industry is the third largest industry in the world, today. It is the third largest income earner for young people in Nigeria after the oil and communication industry. It is a huge industry. It has capacity to absolve a lot more people. I'm worried about how we are going. I'm worried about the right people not getting involved. I'm worried by finding expertise scripting. Those are the things that worry me, not about anybody wanting to go naked.
That can anyway be with or without Nigerian home movie. You may choose to be a mad person standing naked at the junction.
What attracted you to your husband?
Oh my God! Oh Jesus, I've never thought about it (laughs).
Cash I guess?
No! I met my husband when we were in the university. He was my childhood boyfriend so it is not cash as he didn't have any. He had only the pocket money his mother gave him. So it wasn't money. He is very intelligent. When he drops an idea, we call it research topic and I will say he has dropped one. He is very cute and handsome. But I would rather say that he is very supportive. It's not easy to deal with me because I'm restless, very busy and I like activities. My husband is calm and I would like to say I'm very grateful and I don't think if it would have been the same if I don't have a kind of calm, supportive man as my husband. Imagine that he tolerates me as noisy and restless as I am.
What turns you on and what puts you off?
Life puts me on. I don't handle stupidity. Intelligence turns me on. I love intelligent people and I love when people are happy. Happiness turns me on if I'm walking into a place, people are happy and cheerful it excites me and I think I just hit the roof.