AKI AND PAW-PAW MOBBEED IN BURKINA FASO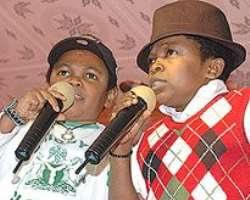 The way and manner the good people of Burkina Faso as well as other movie buffs from within and outside the continent 'mobbed' and milled around Osita Iheme and Chinedu Ikedieze, who are famously known as Aki and Paw-paw, proved that they are unarguably among the most popular faces in Africa.
Through out their stay at FESPACO, fans and admirers were constantly choking them for photos and autographs. Surprisingly, cattle rearers and artisans on the streets of Burkina Faso, were not left out of the rush. Even, while we were coming and going, their teeming fans and admirers kept queuing up for pictures and autographs. Their presence at both Ghana and Togo airports caused quite a big stir. We just hope that some corporate outfits in Nigeria would leverage on this and further make their presence known in Africa by endorsing these dynamites. We are also saying kudos to these two great actors, for being great ambassadors of not only Nollywood, but also Nigeria in general, while in Blaise Campaore's country. Hope Dora Akunyili, is also taking note of this free branding for Naiija?