BEING FAT DOESN'T MEAN I CAN'T BE SEXY------LEPACIOUS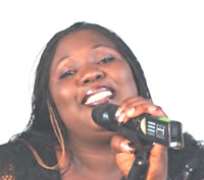 Why the choice of comedy?
Was it for the
money?
I guess I was simply destined to become a comedian. From my days at the University of Ibadan, I was part of the comedy group called Lafomania Organisation where I was a compere. This was in 1995. The group was noted for its comic-drama sketches about everyday life on campus. My job was to come on stage between scenes and spice up the show. Then again, I read Theatre Arts at the University, so my background is well grounded. After my return from Law School, I decided to return to comedy. I can say now, in retrospect, that comedy is my first love. But when I chose to return, it was not as easy as the time in Ibadan because in Ibadan, I was already an established comedienne, while unknown in Lagos.
Breaking into the Lagos circle was no easy feat. I found it quite challenging but with time, consistency and hard work, I can say with all humility that I have been accepted into the fold of established comedians in the country today.
Which one show can you say brought you to limelight?
It is not one show that did it for me but a series of shows. But the finishing school for
whatever inert talent was Opa Williams' Night of a Thousand Laughs in 2006. One unique style of delivery that seems to work for you is making yourself the subject of your jokes, especially concerning your size. What brought about this style?
You may choose to call it my style but for me, it is a technique that has worked for me. It is not that I find joy in mocking myself, so to speak. I realised early in life that many big people are not comfortable in their skin. I am. But that is not to say that I want to remain big. Yes, I desire to lose some weight but I am me and I am happy with me; big or small. Then again, I realised that big people were always the butt of jokes. Being big, and making myself the first example of a big person lightens the burden for other big people at events. So, I decided that if I don't talk about it, someone else would. I also yab slim people, to give them a taste of their medicine. However, my size alone does not form the only subject of my jokes.
How did your parents react go your choice of comedy over Law?
My parents are both academicians, my father was a school principal, while mum was a headmistress. There are just two of us; myself and my brother. I wanted to do something I would enjoy which is Theatre Arts. But people thought I was unserious, so I went to study Law to prove that I am not dumb. They were a bit worried when I decided not to practise Law, opting out, instead, for events management and comedy. My parents are understanding and they support me.
Being fat comes with its problems, like a low self esteem. Did you ever suffer this and do you wish you were smaller?
I want to believe that there is hardly any fat person that regrets being fat. My summation is that if you are fat, is the option to kill one's self in the name of trying to loose weight? I know, also, that it can be frustrating trying and not getting the quick results you desire. The reason I would want to loose some weight is strictly for health reasons and not for aesthetics. Big people need to cultivate a positive attitude; it is the tonic they need to be disciplined. For it is only then that results in whatever you want to achieve can be received.
Doesn't it bother you that most of the trendiest of clothes come in small sizes?
No. That is why I started making my own clothes and people tell me they look good on me. But the fact that I am fat does not mean I cannot be sexy! I design clothes that suit my body, not necessarily exposing my body but something that flatters size. I always do not want people to see my size as the last description for me; rather I want them to see my beauty, attitude and sense of fashion, as an individual.
Comedy is a mainly dominated by men. How do you cope with working with them?
Generally, in every system, the emergence of women makes men step-up their games. So, it was a challenge when I chose to join the train. Holding forth in a male-dominated industry is not easy.
Also, the attitude of people towards female comedians is not encouraging. But the few who give us a chance have never regretted it. I have handled shows where I have been paid extra money after my performance. I think the reason it seems like it is mainly dominated by men is because women are scared of becoming comediennes because making people laugh is not as easy at it seems, especially when you are making them laugh right in their faces. Different crowds come with their different attitudes and I tell you, being in front of a crowd is as hot as hell. You have to be happy to make other people smile. Then there is the stereotype about brand perception and the face you give to it. A lot of companies that use comedians use the males as their brand faces.
Who are your role models?
In the comedy world, my model is Monique, of the Phat Girls fame, for obvious reasons. I admire Oprah Winfrey, Hillary Clinton, Dora Akunyili, Ali Baba, Owen Gee, Koffi, HolyMallam and the American preacher, Prophetess Juanita Bynum, I find solace in her CDs when I am down.