I'm Leaving Film For TV -Emeka Ossai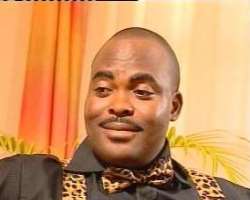 Actor and Producer, Emeka Ossai, breathed fire as he discussed the evil that piracy has caused to the development of Nollywood in the country. In this interview with Darlington Abuda, he traced the development of the film industry in Nigeria and talked about steps that could get Nollywood back on track. He also spoke of the excitement when he won AMAA Best Supporting Role Act Award in Abuja last year.
What got you into Nollywood?
I was invited into Nollywood, for those who know my history, I actually started out as a model while in school. I was discovered while doing my national diploma at Yaba College of Technology (YABATECH) by a particular studio head with Lintas, as it was called then, before it became Lowe Lintas. The company was looking for a model to launch a Peak milk campaign and they had been on campus for about three days and found no one that fit their criteria. He saw me and thought I was suitable and asked for my pictures, which he said he was going to present to the larger board. He left promising to come back in three days but surprisingly he returned the next day saying the board had accepted and that I should come over to the office so we could discuss the terms. That was how I started modelling.
The first campaign was successful and helped me to get some other jobs as easily as an established model. But these were all in the area of photographic modelling. Within the system I met Frank Osodi, who was a runway model and encouraged me to do the same because he said I had the build for that aspect of modelling. With a few pointers from him in the art of cat walking, I became a runway model. My movement in modelling was very fast and in no time I became Nigeria's first choice model and by 1993 I de-emphasised on modelling. Before that, I was a celebrity in my own right because in those days models were the ones celebrated, actors had not gained prominence. I think based on my status at the birth of Nollywood I was invited by Ikechukwu Ogunjiofor, who was the producer of Living In Bondage part 1.
He invited me to be part of Circle of Doom, which was released on the same day with Living In Bondage part 2 so that was my entrant into Nollywood as it were. I was invited into the system and did not have to go through the rudiments like some other people. Within a short period I rose in the ranks and went on to produce my first movie. That I was invited into Nollywood does not mean I did not have any pre-requisite experience. First of all, I had been on NTA's Third Eye series with Olu Jacobs and others. Besides, modelling is not very different from acting because you have to carry your audience along by making them appreciate what you do.
As one of the pioneers of Nollywood, how will you describe the industry at its infancy?
Nollywood was very interesting, it had all the trappings of a typical art industry where there is so much camaraderie and to some extent discipline of the trade as against what we have today.
There was an attempt to improve on the art for art sake and then making money along the way. But now there has been so much commercialisation of the art that people cut corners in order to get by and, of course, it's killing us and I hope we can go back to the old days.
Your dalliance with Eucharia and Frank Osodi while you were a model made people sometimes describe you as a trio; will you say that relationship still exists now?
The movie industry has expanded so much and in as much as we were doing so well as models, it was not a very large industry. So, we were always together. Besides, Eucharia and co were not my direct colleagues; Frank and I were older than them, we brought them into the system and tried to improve on their trade by making sure that they got jobs and also gave them lessons on how to be a better professional. That's why there was always a reason for us to be linked. Most of the shows we were putting together then we used people like Eucharia, Deji and Moses who were like the next generation to us making sure that we handed over to them properly before we left. Now, in Nollywood, we don't really get to see each other a whole lot except at the beginning when the industry was still a little bit smaller than it is today.
What other aspects of the industry have you dabbled into?
I am a producer and I graduated into production well before my contemporaries because the industry started from 1992 and by 1996, I was producing my first flick. Over the years I have produced various films in Nollywood.
How would you describe your experience as an actor and producer?
I think it is easier being an actor because yours is just to know what you have to do and you are not bothered about the hassles of production. But for a producer, everybody is your concern and so everybody's headache is automatically your own.
In these days of piracy, how are you coping and keeping solvent as a producer?
I will not pretend to you that I am coping. It is not by accident that I am getting into the production of television series. Film is dying and that is because of piracy, the insincerity on the part of the so-called marketers, most of whom double as pirates. They have been engaged in their sharp practices for a long time and it is now consuming the industry. Look at the music industry, we won't say that the music marketers are straightforward but they try as much as possible to sustain the artistes because they know that without the musicians there will be no business for them. But the characters that we have as marketers in the film industry do not understand that. You cannot kill the independent producer, if he is not there you are finished and the reason this is happening is because the marketers are ensuring that the independent producers do not make returns. When they produce their own films they protect it but when such a thing occurs someone else will pirate it because it has become part of their psyche. We, the independent producers, have decided we don't want to make films anymore, let them make their films and sell. Presently, we don't make as many films as we used to and actors do not have as many jobs as they used to. If the marketers had concentrated on exploiting the market in Nigeria and left production to us, independent producers, and ensured that when we give them films to sell, they adequately make returns to us, we will continue to make the films and they will continue to expand and everybody will be happy.
They kept saying 'film no de sell' and I have always said to my colleagues that it is the height of stupidity that anyone can say that films are not selling. How do you explain the fact that the industry is expanding? They started by making films for people in Lagos, they expanded to the entire Nigeria, then West Africa, to Africa and to the blacks in the Diaspora. Everywhere there is a black man there are Nigerian films. There was a time when it was difficult for these people to even sell 5,000 copies of films and it was until Jenifa that is now acclaimed to be one of the best films made in Nollywood has sold over 500,000 copies. I am so upset with these people that if I were in position to deal with them, they would regret ever coming into this business because they have killed it.
The commercial success of Jenifa means that Nigerians and all those that watch our movies are still hungry for Nigerian films. So, it is just for the marketer to make sure it gets to every nook and cranny of Nigeria and then be sincere and encourage filmmakers. Jenifa is a Yoruba language film so it means that the potential market is not even as big as an English language film and yet they made 500, 000. So, it means that an English language films can make well over one million copies. But these marketers come to tell us that films do not sell except we use certain faces but none of those faces are Jenifa and it has sold so much. I just hope they wake up from their stupidity and those who do not have any business being in marketing should go back to their villages and farm; they can make money from farming.
You don't always have to be a criminal to make money, people trying to be straight in the music industry and everybody is happy. A small boy releases an album today and the next thing you know he is driving the biggest jeeps, buying houses and travelling all the over the world but someone spends so much to make a movie and someone says it does not sell. If it were possible, I would say the music marketers should come into our industry and begin to market films and send these people back to their villages.
What is the concept of this TV series you are currently working on?
It's just a wonderful family story titled Crossed Road, the kind of story that even the house-help will enjoy watching. It's about boy meet girl, boy falls in love with girl and then there is a series of intriguing interactions, betrayals, morals and action. Essentially, it is a family story that also teaches lessons along the way and it will be hitting the screens from next quarter.
You picked up the award for the Best Actor In A Supporting Role for the 2008 AMAA awards, can you describe your experience getting the award?
Unfortunately, I was not there to receive the award myself because I was on set. But let me state this, I was duly informed that I was nominated but the change in venue from Bayelsa State to Abuja prevented my being at the event due to the fact that I was on a set in Delta State. All in all, I was very happy that I got it, though it came as a surprise because I did not even know that the film was entered not to talk of me being considered for an award. It was very exciting getting this, which is an African award, and I am very happy that I competed with some other African artistes and I beat them to it.
What do you think is needed in the AMAA awards to raise its quality to that of the Oscars?
Everything that we are doing as far as entertainment is concerned in Nigeria can never be compared with America.
First and foremost, in America, they operate in a bigger economic space and they have longer years of track records. They have made their mistakes, fumbled and wobbled from the beginning to what we now refer to as perfection that we are trying to meet up with. We won't be fair to ourselves if we are comparing what we are doing with what is happening in Hollywood. But I will say that what we are doing so far is better than what we used to have. Though there are quite a number of things that need to be taken care of. I can tell you that from the first AMAA awards till date there have been some great improvements and I believe that it will continue to improve. When AMAA started it was sponsored by the Bayelsa State Government but with the last one we saw the involvement of UBA (United Bank for Africa Plc.), a corporate body. If UBA did not think there was a good track record it would not get involved. For the bank to be part of the event means that the award ceremony has evolved positively over the years. I believe the award will continue to evolve from strength to strength till we get to the level of the Oscars.