YOUR ABILITY TO ADVANCE GIVES YOU ABILITY TO RISE - ONONUJU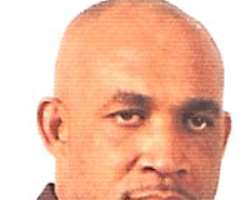 Kelechi Ononuju, is the CEO/MD of many business outfit among them are Kel negotiate Ltd, FAHD Investments Ltd, FAHD Infotech Nigeria Ltd etc. He is of view that when you work for a man work for him with all your heart so that he will reward you with all his heart. According to him, dedication, honesty and hardwork are the way forward and that is the means of rising on the job.
In this interview, he expresses what interests employers apart from qualification. Excerpts:
Ononuju:
When asked of his background, he said, my secondary school was in the north, Wukari then Gongola state but now in Taraba to be precise. I finished secondary school in 1986 and went to university of Port Harcourt where I studied B.Sc biochemistry.
When asked of the challenges he encountered during that period, he answered sure, normal challenges but not the extra ordinary. We went to a good secondary school, Federal Government College, Wukari was a good school with sound and clever teachers.
The principal was SN Abia, may God bless that man. He was tough but when I recall back now I know clearly he did his job, above average. For instance On our WAEC exam day, there was no external invigilator, just our normal teachers and I will say almost 90 pass rate. The principal made sure we were well taught.
It was from him that I first heard, if the students do not do well, then the teacher did not teach well. I met this idea again in the United states and UK when I attended some education programmes.
In those days, our school had no water, so we fetched water mainly pond water and use alum to purify the colour at least, it was a normal growing up, my parent only visited me once in year never visited again, but I had all I needed. And always came back with good results that made my dad very happy. Those growing up challenges helped us a lot to position ourselves today.
Before employer's promotion…
An employee must learn how to do job as if he it is his or her own and if I see a worker who takes his or her employer's job as if it belongs to him I will definitely promote the person whether he has certificate of not. This instinct is rare and at times the employer might not notice it.
It is definite that you cannot afford to ignore a good worker, no matter how you do it, there may be rumuors that this and that is favoured, it all has to do with that worker's imput.
Most businesses fail because the managers do not have the same instinct the owner has but when you have the eye to be able to observe and know the instincts that make your business successful and that of your workers' habit, then your business can last forever.
Our environment today values certificates even when many can't defend it, as an employer would you prefer less qualified with skills or the big certificate?
Many employers cannot even detect a working habits of their employees because some of them are observant enough. This is why trainings are compulsory for managers and heads.
On certificates that can't add value, I prefer a worker with skills, the certificates are so many and easier to grab these days. An employee with skills at his work is a blessing to the company and must have every course to rise on his job.
But some of them are carried away with the issue of wages and forget their first art of exhibiting their skills. You must show your skills for the employer to vet. You must go the extra mile to show that you are capable. Some workers judge this by receiving their monthly salary
Everybody wants more, like employee like employer.
The employer wants huger profits and the employees want promotion and bigger salaries. What will make them not compete is the continuous generation of more and more ideas that will materialize into more wealth and both can satisfy their desires
Improving on their jobs…
Every employee should like his job and go for further training as part of improving on his job. Employees should make further efforts to improve the application that will generate more for the employer.
When an employer discovers that an employee through trainings has improved and started adding value to company's objectives, surely promotion will come and the person will begin to rise on the job.
Create a good relationship with the boss, you must know how to communicate your ideas and also know when to pipe low. Learning is necessary both for the employee and for employer. A worker remains where he or she is, when he or she is not advancing with information, trainings necessary for the job he is doing.
The business studied in the classroom has changed, the new business skills are lerant while still in the job. Things are heading back to apprenticeship. This is the new idea and the emerging new world business order.
Even if the company is not learning new things, they will diminish talkless of the employees working there, they will decay. This is the problem with some of our parastatals and establishments in nigeria. Decay, same method for so long and no chance for the new ones coming with the new ideas and theories.