RETIRED HEADMASTER WHO BECAME AUTHOR AT 73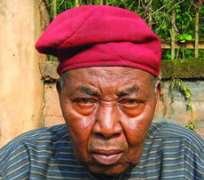 He is a grandfather with pace-setting inclination. For years, he traversed various parts of Nigeria as a primary school teacher before his final retirement as headmaster 1 in 1990. But, even at retirement, his head is full of ideas: he wants to leave more legacies.
Ichie Jonathan Arji recently blazed a trail when he wrote an historical account of his community in a book, a project many educated men in his community never considered worthy or lethargic to embark on.
Since the publication of the book, The Praxis of Aji (Abba) People and Culture, it has become a rave, as the book is now being sought after by sons and daughters of Enugu Ezike, Nsukka, nay entire Igbo land.
Aji village in Enugu Ezike town, Igbo-Eze North L.G.A, Enugu State, like other communities in the town, has various unique cultures. Their distinct dialect, which is a mixture of Igbo and Idah/Igalla, Kogi State language, their ever fresh palm wine, moral values, Omabe masquerade festival, among others, has elicited much interest among people from other parts of Enugu State and beyond. Yet, there was no recorded version of these historical facts in a book until Ichie Arji's intervention.
Popularly known as Omegbudu among his people, the energetic Arji expresses his delight in accomplishing the vision, 'The book now in reference was a product of a dream in 1983. It was then that the burden to document something for posterity came into my mind. I called some of my fellow teachers then and urged them to join hands so we can produce at least a magazine about our village. All of them showed enthusiasm, too, and we shared topics among ourselves so as to go home and develop the research work, but that was the end of discussion, as they just collected the topic, went home and relaxed.'
Due to lack of encouragement from his colleagues, he merely wrote three pages then and lost the inspiration to continue. But the septuagenarian's interest was again kindled when some undergraduates of his community floated a magazine and gave him an assignment to contribute a topic about his grandfather, who was a great nationalist.
He says: 'The idea of the young undergraduates challenged me and spurred me into action again, but the final push came when one of our indigenous Catholic priests, Rev Fr. Gabriel Ezeh, was travelling to America on a mission work and relocated his library to my house. I developed a voracious appetite for reading then and saw works done by other people who have attempted to document village or town history.'
A research work that took him three years to complete, he encountered tremendous challenges in the course of researching for the offering. 'I was constrained, because most of the people contacted for information were bereft of such knowledge. Writing the history of a people when the progenitors of such people didn't have access to formal education is a very difficult task. They relied only on legends and stories passed from one generation to the others. The oldest man living in our village now has a hearing impairment which prevented me from gaining from his rich repertoire of ancient wisdom. However, I was inquisitive and unrelenting,' he says.
Thanks to Odo nwa Arji of Umuodeje area in his village, 'a good storyteller', he helped greatly in supplying him some historical record of events. The author is ever grateful to some individuals for giving him support to make the book a reality.
These include Micheal Alubaja, a fellow teacher and neighbour, Rt. Hon David Atigwe, former Deputy Speaker, Enugu State House of Assembly, and his five children, especially Arji Louis, a doctoral student at University of Nigeria, Nsukka; Arji Cletus, a graduate of Mass Communication and Dr Ezeje Ogili, the first academic doctor in his town, who wrote the foreword in the book.
With Ichie Arji, there is no room for lethargic contentment for the village.