Why I abandoned Engineering for acting – Justus Esiri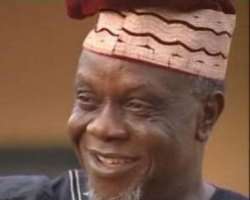 Justus Esiri is one of the pioneer actors who has indeed earned his fame in a hard way. He attended Urhobo College and later went to Germany to study engineering where he developed an interest in theatre.
Thus, he began his acting career on stage in Germany. He also worked for Voice of Nigeria VON, German Service as a translator. He was performing on stage in Germany when a delegation from Nigeria invited him to perform in Nigeria in a government sponsored program. When he got back to Nigeria, his homeland, he never went back to Europe.
His fame was launched widely for his role in the ever popular African TV series, the Village Headmaster where he played the "Headmaster".
Why is Delta State giving you an award?
Well, I was taken aback when Vanguard Newspapers said I'm to receive an ward. So I waited to be served the letter.
Finally, when it arrived, it was a referral and it was asking me to give the credit to Vanguard Newspapers that is celebrating 20years in Delta State.
On their merit, I think 50 people were nominated for the awards of which I'm one. I take it as an appreciation of what they think I am. And when I looked at it, I see that Vanguard has been allowed to take the credit for award.
So do you appreciate it?
I say thank you to Vanguard for choosing me among those to be honoured. I thank the Publisher of Vanguard. Maybe the Delta State Government couldn't handle it themselves because people have different way of handling such.
So how do you feel?
I feel happy. It shows I'm appreciated although the mood with which it was given is not important to me
When you look back, are you grateful to God for everything you've achieved?
God has been very wonderful. My getting into this profession was because someone made me realize the wonderful talent I've got. He also recommended that I go to a school of performing arts to study theatre.
And I hadn't even concluded my course there before I started receiving invitations to come perform theatre in Germany, Austria, Holland and so many places.
In 1977, the Nigerian government asked me to come back. I said it was a very good thing because there were lot of eminent people then and I don't regret it except that you don't get what you expect out of certain things because the orientation of the majority don't tally with yours.
It's not an industry where cameras are manufactured in Nigeria. Theatre is a way of life in Nigeria. I don't have any regret because it has endeared me to people all over the world. I've travelled extensively and I'm very happy to be a Nigerian.
When you came back to Nigeria, you were acting basically for free until Nollywood broke…
When I came back to Nigeria, I thought that the government was ready to unite the country with theatre. We started with the Village Headmaster and people in higher places watched because it was the voice between the people and the government.
It made people think that when you watched Village Headmaster, your views have been tuned to government. Generally, I felt the government would use it to do better things for the country.
But it wasn't like that. I thought they'd use the Village Headmaster to galvanize the country. And we can see today that we're pacing round which is very bad. Through Nollywood, a lot of things were streamlined because movies are being produced in different dialects.
Nollywood has tried. It has financially helped people and given people in the rural areas an opportunity to make funds from what they sell. We've helped people who don't have money to go to school by merely playing waka pass roles(laughs). We've tried.
It must have been painful returning home to find things a little unsettled with no money…
You hope all the time that things will be better, that you can make things work. In 1979, we were in a conference which brought out a policy that each local government in the country should have a theatre for information, entertaining people on what was going on in the country.
And if there were theatres where people could sit and entertain themselves, news would be disseminated to the people like in the days when people disseminated it using Land Rovers.
I don't think such a policy has been implemented. It would have been better for this country because we have graduates who aren't practicing what they studied.
Today, I can see that after oil the next thing that is bringing in money is entertainment. Our musicians have been unbelievably accepted all over the world, Nollywood movies go all over the world. Where you don't know, these films get there and they're accepted, dissected and applauded, anything happens there. So you tend to see the productions well but has it actually helped the country to bring people and the youths together.
So do you wish government could go back to building theatres?
I wish they'd allow community theatres to come back. This would help them laugh at themselves and know what's good and bad for them. It must happen like that otherwise we won't move further. The theatre opens your mind.
What were your perceptions when Nollywood manifested?
I was very happy. You should know that Nollywood started from a news gathering format. The cameras that were being used for Nollywood were cameras used for news gathering and nobody thought of it being used for films.
Everybody thought that the cameras were used only for gathering news but that people didn't think it could be used for gathering films. That again was used to inform and educate our people although the work was difficult.
So, I was happy because we're intelligent people. A lot of people reaped the benefits of Nollywood, they earn more money than we used to earn in those days. So I am happy for it.
When, you were called to be part of it, how did you react to the kind of scripts given to you?
I would say that I'm a different person. A film must have a good story and my contributions to the scripts given to me were known by the producers because I don't take anything for granted.
If the script isn't good, I'll let them know what should be done and that's how I worked with the people of Nollywood. If you look at some of the films I shot, unless the producers wanted it to be their own way, you'll see the differences between my sequence and other sequences in the same film.
Why do you always play roles of either a wicked chief or a wicked father?
It's so because that's what the producers want. The producers tell the writers what to write for me because that's what they want to see. In most of the films I acted, they want to see discipline, forthrightness, and things that people do that mitigate against the upliftment of the society. And in most cases, I did well.
But sometimes, I'd wish to see you play the role of a house boy…
If I was given that to play, I would do it. I'm multi-talented. When I went to school, there were multi-dramas where I played the role of a waiter etc.
If you've learnt so much, why haven't you been able to produce movies of your own?
I shot a movie some time ago. I spent a lot of money on it and it was shot in Sagbama, Bayelsa State. And when I shot it, I used about 300 people. I used a lot of hands because it was shot in the woods of Sagbama and some other places.
Some of my artistes came from Yenogoa everyday and I allowed some of them to stay with me because there were no hotels around. Then something very sad happened.
This play was written to propagate amnesty and I thought that was the only way of getting things done. One morning at about 3am, somebody knocked on my window. He said he wanted to see me. I came out and opened the door. As soon as I opened the door, everybody put on hoods.
They told me they've read my script and weren't ready for amnesty. They threatened that if I released the movie, I'd have to bear anything that happens to me. I went cold and couldn't even tell anybody about it. I didn't know who I was working with or where information was leaking out from.
What was the focus of the movie?
It's about the divide and rule system applied by oil companies to foment trouble. It was a conflict between two sets of youths fighting to override everybody in the society. At the end of it, there was reason for money to be given to both groups. So I didn't release the film.
How were you able to convince the casts and crew that you were backing out?
I'd almost finished and they allowed me to finish it but didn't allow me to release it.
But now, amnesty has been granted…
The director of the film who also edited it, later left for Ghana. I've called him. He is supposed to bring the film a few weeks ago but something happened to him and I don't know where he is.
What happens to the movie if he doesn't come back?
He'll come.
What if he dies, how would you retrieve it?
I'll get it because I'm a very patient man
What was it like when you came back home?
After coming home, I joined the theatre group thinking that the government would support it. I took some young people from Lagos to Benin by road. It was very rough-the youths were eager but there was nobody to help.
How were you able to make ends meet?
I wasn't married at that time. The money paid was good. And because I studied Theatre Arts, I could practice anywhere I went. I finally got married
How did you meet her?
She was in my group, among the people who wanted to do Theatre.
How did you notice her?
My wife could sing well. And there were many talented people and at that time, anybody who was in the group was encouraged to go to school. And my wife said she wanted to go to Yaba Tech but she couldn't do the interview because she didn't get any letter. So I took her to Yaba and she was granted an interview.
How did you join the Village Headmaster crew?
Before I joined, they'd had about four auditions and picked headmasters that couldn't handle the role. And when I came and did it, the late Chief Eleyinmi, the late Councilor Balogun, late Sisi Clara were all excited. That was the first time they'd see me perform. After I was through, they were all clapping for me and I wondered why.
Apparently the people before couldn't deliver, so I told them they haven't see anything because I knew where I was coming from.
When I shot Village Headmaster, that was the only time people would stop their cars in go-slow, to watch the Village Headmaster, drink bottles of beer while watching. After they finished, they'd enter their cars and drive away. There were no armed robberies, security was okay. It was incredible
When it ended…?
We felt very bad because a lot of us didn't understand why. It was replaced with the Sunny Side of Life which to me had no meaning. People know why they do things-whether it's for their benefits or that of the society.
Can I classify you as a wealthy person?
No you can't. I'm not. I've trained my six children who are all graduates. They do what they want to do and they live on their own. Two of them live in England, one sings. I have a geologist. One has to be very careful in this society when people choose to fly before walking.
I 'm a man who loves discipline. For instance, when a Yoruba man wants to greet you, he'll lie down flat but you don't see that again. In my place, even when you don't want to kneel down, you tell the person my knees are on the ground but you're standing.
Things have changed, the orientation of a disciplined society has changed by so many things in the society. In those days, it was God the Father, now it's God the son. But above all, you must be a father that will be able to train up your children
What if one of your sons follows your footsteps?
Well, that's his life. I have done my part and trained him as a doctor. So he won't blame me if he fails in life.
How did you feel when he told you he wanted to do music?
I just called him and told him both the negative and positive aspects of the entertainment industry and he has to be focused. I scolded but gave him my blessing and he picked up.
When did you start thinking positively about what he's doing?
There was a day I traveled and he called me to inform me he was in the studio. He asked that I come join him, I went there and had an interview with him and he's been showing the interview nearly every week on TV.
If not for the interview, a lot of people didn't know he's your son…
They thought the doctor he added to his name was fake but he is a trained dentist. But that's him, I pray he makes a head way of it just like I did. Ours was service to our nation but I won't preach that to him now, I'll preach money money money.
To go make money?
He should try to make money. We carried mission on our heads and people like Wole Soyinka is still doing that now.
You have no regret in life?
None at all.
You told me you weren't feeling so well…
Yes I went somewhere for a long time.I had an ear problem, and I think the doctor who treated me here in Nigeria, gave me a wrong drug for it.
So I had to be rushed abroad. But since I came back, I've not been fine-it's either one sickness or the other. But thank God things will get better.
Recently, I went somewhere for something and I worked very hard from morning till night. I got to the hotel and ordered for something to eat. When I slept and woke the next morning, my health failed me.
So, someone was called to massage my back. When he came, he started gyrating on my back. Since then I've had this pain but it will go.
Female massages are better
Well I don't know because I haven't tried it.