UN HOUSE BOMBING: FG UNMASKS MASTERMIND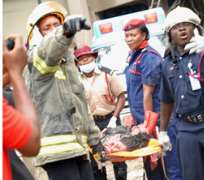 Investigations into last Friday's bomb attack on the United Nations (UN) House in Abuja got a boost yesterday as the State Security Service (SSS) said Mamman Nur was the mastermind.
He is on the run. Nur was said to have a close link with Al-Qaeda and Somali's Shebab fighters among other terrorist groups.Twenty-three people died in the UN attack with scores seriously injured. In fact, nine of the victims had been flown abroad for further treatment. Boko Haram sect immediately claimed responsibility.
Disclosing these yesterday, SSS spokesperson, Marilyn Ogar, said in a statement that Nur returned to the country from Somalia at the start of the Ramadan fast last month. She said that two suspects are already in custody. They were identified as Babagana Ismail Kwaljina (aka Abu Summaya) and Babagana Mali (aka Bulama). The two suspects, who were arrested on August 21, 2011, are being held at a military facility, according to Ogar. The statement came amid mounting concern over whether Boko Haram has formed ties with outside extremist groups.
'Investigation has revealed that one Mamman Nur, a notorious Boko Haram element with Al-Qaeda links, who returned recently from Somalia, working in concert with the two (arrested) suspects masterminded the attack on the United Nations building in Abuja,' the statement said.
The suspect had been declared wanted following the attack on the building where some 400 UN staff with a variety of nationalities worked, it noted. Nur's name had been previously circulated as a top figure within Boko Haram and he was considered by some to be the sect's third-in-command during its 2009 uprising in northern Nigeria, put down by the military.
He was believed to have fled to Chad to escape arrest by the security agents before moving on to Somalia, according to sources claiming to have been sect members as well as others familiar with Boko Haram.
Nur is thought to have returned to Nigeria several weeks ago at the beginning of the Muslim holy month of Ramadan. The statement also described the two other suspects arrested on August 21 as 'notorious leaders of the Boko Haram extremists sect.'
Their arrests came after authorities received intelligence on August 18 of plans for attacks in the federal capital, Abuja, it said.'On 18th August, 2011, precise intelligence was obtained by this Service that some Boko Haram elements were on a mission to attack unspecified targets in Abuja. 'Following their arrests, security was further beefed up in Abuja and its environs. 'Meanwhile, the suspects have made valuable statements and are being held at a military facility, she said.' There had been growing concern over whether Boko Haram has formed links with extremist groups outside Nigeria, including Al-Qaeda's North African branch and Somalia's Shebab fighters.
Boko Haram suspects have claimed that they received training in foreign countries, and analysts point out that their attacks have grown increasingly sophisticated. The Islamic fundamentalists have been blamed for scores of shootings and bomb blasts, mainly in the North, but it had not been known to target international institutions such as the UN. It claimed a bomb attack targeting the police headquarters in Abuja, last June that killed at least two people. In Friday's attack, the bomber made his way past two gates before ramming his car into the entrance of the building.
'Further investigation has also revealed that the car used for the attack was a Honda car with Kano State registration number AV38NSR. It was purchased on 3rd September, 2002 and registered on 3rd December, 2002. The vehicle identification number is 1HGCBA7400A100748, Engine number, F22A72000540,' the SSS said.'The security services wish to reiterate their commitments to ensuring that we have a safe, peaceful and secured environment. We want to reassured Nigerians that we have no other country and we must all strive to maintain its unity which is currently being threatened.
'We implore all Nigerians to be more security-conscious and vigilant while urging the general public to co-operate with security agencies by providing useful information that could lead to the arrest of Mamman Nur who is hereby declared wanted. Any person with useful information which could lead to the arrest of the suspect and other accomplices should report to the nearest police station, military formations or any other security agency,' Ogar said.
The UN's Deputy Secretary-General, Asha-Rose Migiro, held talks with President Goodluck Jonathan on Sunday, in Abuja. She said that the 'perpetrators must be brought to justice,' while vowing that the attack would not deter the UN work. The Federal Bureau of Investigation (FBI) agents from the United States are on the ground.