GLO COUNTS BLESSINGS AT 8TH ANNIVERSARY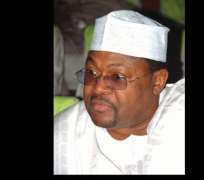 Globacom last week pledged to continue using innovations in technology push the threshold economic growth in the country. It also promised that it would strengthen the communications industry with introduction of more up to the minute technology in the coming years.
This pledge was made by company's Group Chief Operating Officer, Mr. Mohamed Jameel, while speaking to editors on the past and future of the company during a pre- anniversary interview in his office over the weekend. Globacom rolled out eight years ago, on August 29, 2003.
Mike Adenuga, Glo Chairman
Jameel said that the company had, in its eight years of operation, been at the vanguard of technology, innovation and tariff reduction in the industry.
He said that the company began operations with a superior 2.5G network on August 29, 2003 when others operated on 2G, adding that the company is ready to launch a 4GLTE network following successful testing and trial. 'We are only waiting for the licence and licensing policy from the government', Jameel said.
On industry tariffs, according to Jameel, Glo not only crashed the cost of mobile calls right from inception, but it has also brought down the cost of bandwidth and international calls with its Glo 1 submarine cable, 'when we came into the industry , bandwidth rode on satellite and tariff was as high as $29,000 for an E1 per month.
'But now, not only has bandwidth dropped to N90, 000 for an E1, but you can also pay in Naira unlike before when payment was in hard currency' jameel explained.
For him, Glo 1 has also made considerable impact on international calls having reduced tariffs and improved quality extensively. 'We now charge as low as N9 for international calls with more clarity, less redundancy and less noise 'he said.
Jameel disclosed that several corporate organisations have migrated to Glo1 from satellite bandwidth infrastructure. Also many of the corporate organisations including the Presidency are operating on Globacom's fixed lines but lack of uniform Right Of Way permit charges is hindering last mile deployment to retail buyers.
He also commended Nigerians for having supported the company in the last eight years.