HE WAS NAMED GOVERNOR AT BIRTH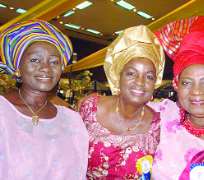 At birth, his parents named him governor, but when he grew up, he developed a dislike for the name. In his imagination, that was not a name to bear. He revolted. He would later be called Kennedy.
But for that decision, he would have become a 'double governor' today. Kennedy Ejakpomewe is the new Governor 2011-2012, Rotary International District 9110. After his installation, he was overwhelmed by the shouts of Governor! Governor! From his admirers. He then told fellow Rotarians and invited guests the story of how he once upon a time rejected the name 'Governor'.
The atmosphere in the hall was revealing enough to tell the honour, power and glory attached to the office of a district governor. Kennedy said it was an act of divine wisdom for his parents to have named him Governor at birth.
The applause and laughter that trailed his story was the climax of the celebration that marked his installation as the 31st Governor. The event, which took place at the Shell Hall of the Muson Centre, Onikan, Lagos was magnificent. At intervals, a band played serene music to complement the famous Atilogu dancers who created a frenzy at the occasion.
The organisation noted in its agenda: 'Serving in Rotary can be very challenging, but unarguably the most demanding of all positions is that of the District Governor where you give all and more in service to humanity. We, therefore, at every opportunity hold with great respect and honour our District Governor (past and present) for their invaluable services through leadership to our district.'
Kennedy's tenure covers 2011 - 2012. He has an ambitious task to accomplish. His theme is 'Reach Within To Embrace Humanity.' The theme summarises his programme of action.
In his post-installation speech, the governor left nobody in doubt that he has the wherewithal not only to perform but also to carve a niche that would make members and friends of the organisation proud of his election. He pledged to drive the affairs of the organisation with honesty and transparency just as he called for a re-dedication to service by members.
He bemoaned the catastrophe of collapsed buildings, polio disease and poverty that had brought misery to many Nigerians. He pledged that the organisation would go all out to mobilise public support for humanitarian services.
The carnival atmosphere of the hall left no one in doubt that it was an appropriate venue to promote tourism in Nigeria. The guest speaker was quick to recognise this. Therefore, when the Director-General of the Nigerian Tourism Development Corporation (NTDC), Otunba Olusegun Runsewe mounted the podium, he wasted no time in tasking the organisation on promotion of the sector.
He appealed to Rotarians to rise up to the challenge of promoting the country's tourism sector. In putting up what could pass for an eloquent argument, Runsewe told the gathering that 'oil is exhaustible, tourism is sustainable and environment-friendly. One day, our oil will dry up. Like Dubai, we must begin now to seriously consider tourism as a viable alternative to the oil industry. I share totally the axiom that tomorrow belongs to those who prepare for it.'
The Director-General is not impressed with the role of the private sector in tourism development. 'The private sector involvement in Nigerian tourism industry today is far from being satisfactory,' he said.
Runsewe noted that Rotary International was an organisation that is tourism-friendly and if its Nigerian members take the challenge of tourism seriously like their counterparts in Europe and America, there will be a big mark on government's efforts.
The new District Governor was born on August 7, 1959 at Obiaruku, Delta state. His romance with Rotary International started in February 1990 when he joined the Rotary Club of Oyo. Upon changing location, he joined the Rotary Club of Agege in March 1991.
Before becoming District Governor, he had served in various capacities. Kennedy is a recipient of several club and District awards. In his citation, he was described as having 'an insatiable appetite for service to humanity.' His wife, Merrytime Odiri, is a Paul Harris fellow and past president, Inner Wheel Club of Agege.