JONATHAN'S PRESIDENCY IS DIVINE -CLERIC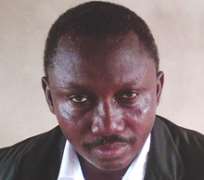 As many Nigerians speak against the Boko Haram sect and the Islamic banking, the General Overseer of Christian Victory Prayer Ministry, Pastor Dan Obinegbo has warned President Goodluck Jonathan to be wary of the Islamic sect . He argued that, 'To narrow down Boko Haram as Borno uprising is a misconception to the entire situation. Just like America underrated Al-Qaeda only to find out that the entire Moslem world were fighting them.'
In an exclusive interview with Daily Sun, he said that God revealed to him how some people in President Goodluck Jonathan's cabinet disguised themselves to block his good intentions for the country 'Now the President is fighting an internal battle against those blocking his ideas, to the complex nature of Nigerians who think that Nigeria is in their hands, and anybody outside their circle cannot rule Nigeria'.
He advised President Jonathan to declare a day of national fasting and prayers for both Christians and Moslems.Goddy Osuji presents the excerpts
Excerpts:
By the special grace of God, I was a journalist for a very long time, and my profession never gave me the chance to spread the gospel. I am a born again from a very good Christian family. I was not given all the-practices that we always find ourselves in journalism. I don't drink, I don't smoke, I don't chase women, the only thing is that I write as I see. So, somewhere along the line I started asking questions; where are we from? Where are we going to? If there is God, show me yourself, if I die in this life will I be with you (God). So, these are the probing questions, I was asking.
Sometimes, a voice will call me Dan pick up your pen and write, and I will pick up this pen and write. It was during a simple fasting and prayers session, then the voice said on the last day, that I should not go out for the heaven is ready for me. So, on the last day, as I knelt down to pray, I saw that people could see beyond the ordinary eye. As I opened my eyes behold I found out that the whole sky was revolving.
So, on looking on to see what was happening, out of the centre of the sky, a white cloud came down towards my position and as it was coming, a strange force of God made me to bow. As I prepared to bow, the hand of God lifted from that cloud up to my ankle and poured oil on my head and said, Dan go forth for me, for there are souls that are precious to me. Wherever they are, I will gather them and bless their lives. I was frightened, and said Lord what would be the sign? He said healings for these souls are precious to me; I will gather them, break their chains, and heal their diseases, and afterwards he left and the voice ceased. So in such situation, I found out that I was no longer my normal self.
The next day, I moved forth with my Bible, went to a place I knew somebody was paralysized, preached for the person and went away. Another day, when I went back there to pray again, he was among the people screaming, and shouting, that came out to greet me. From then on the miracle continued. The blind started seeing, the demon possessed healed, and it became a marvel to me; it was more than silver and gold, and that is how it became 'from pen to the pulpit.'
My calling
Number one thing was a surprise, which was also a discovery. The ways of God are not our ways. It was a complete reversal of the ways I know myself as Dan, the journalist; it was a mystery, the mystery becomes deeper as it goes on, and I found out that you cannot notice knowing God because there are things I thought were very impossible to witness how it was done. So, in terms of satisfaction, you cannot compare it with acquisition of money; or material things, you cannot compare it with academic excellence; you cannot compare it with any promotion. It gives a particular joy even in suffering, so it is somehow knowing that the invisible, unknown God could now make himself known to you, and others. Something needed to be tested to be seen.
Using Christianity to make quick money
In everything in life, you have the good and the bad. It is because of some people who claim to be serving God but are serving themselves that have succeeded in pushing away men of God from God. There is no longer self-sacrifice in the service of God. As a result, people now see it as a means of making money. Let me give you this instance; for a period of one year of serving God, I didn't even touch the offerings of the church.At the end of the service, I direct people to collect the money, and at the end of the month I will tell them to use it for the payment of the hall, announcements, and other things. At times, people will beg me. Even the collection of tithes which I often forget, they will draw my attention to it. So, there are people in sheep clothing. That is why Jesus said that on that last day, many people will come and say father we did mighty things in your name, and he will say depart from me, you workers of iniquity and evil for I know ye not. So, those people whatever a man sows, he will reap. Religion is not just a profession, it is a calling of self sacrifice for others. He gave his life for us on the cross, so we have to sacrifice everything we have.
Religion and role in national development
Yes, Nigeria is making a mistake for not seeing religion as part of politics, and more especially as it affects Christians. Christians are so busy harvesting the blessings of prosperity not knowing that power and authority have very quick effect upon whatever they acquire. As a result, it is giving problem. Nigeria ought to recognize that religion is a very strong basis on which Nigeria as an entity is standing. Look at it this way; all the crises in this country, the root is religion, and the recipients are Christians. Other groups believe in what they want and go about it very wrongly; Christians in our endurance and faith in God endures. So, religion is part of the system, and it should be recognized like that.
Penalty for those who cause trouble with religion
I begin by calling on the President of Nigeria, Goodluck Jonathan to see his leadership as a divine mandate. He was set up there by God, and by peoples vote, in order that people will have a change. Whatever he does, right or wrong, will affect the stability of this country for a much longer period. There has never been a time when the Northern states since after the civil war were stable. The point is that, the people who will talk are the people in power; so they keep silent. I am a minister of the gospel. I know how many widows and the fatherless I have prayed for, because they moved forth in some states of this country to find their daily bread and their lives were lost. No compensation. No mention of what was done to them because Christians especially the Ibos are the recipients. The question is how much longer will these atrocities last, for people to say it is enough. How much more would they allow people's will to take effect? Nobody holds monopoly of violence. There are times when you push people to the extreme, and it will escalate. Let the Northerner give peace a chance.The Nigerian situation cannot be likened to any of the Arab countries they are trying to emulate.The Nigeria is a heterogeneous community, more complex in ideas, religion and expression than the Arab countries. Let them not detonate that which will explode, and have hydra-headed consequences. That is my advise to those whipping up sentiments of violence in the name of religion.
Things politicians do that irritate God
I will refer you to Mathew 6, 19-24, where it says, do not lay up your treasures in this world where it decays for where your treasure is, there also is your heart. In the past, we knew what the politicians did for their people, but today, we know politicians for what people will do for them. That is what I see in them. I was lucky to meet Zik. I met Akanu Ibiam and other politicians. I found out their simplicity, and love for the people, and then I found out things about these modern mega politicians; I found out that we measure them by what they acquire from the people, and not what they give to the people. That is a very dangerous trend. For time will come when we will assess a man for what he sows. While evil grow is that people who are supposed to stop it keep quiet. Evil is like a wild tree, that could grows where it ought to grow as a result, if destruction comes suddenly; for instance if there is any crisis now, you will find out it is the rich that will receive the wrath of the people, they will vent their anger on those people who they felt have acquired their wealth. So whatever politicians are doing, they should be careful about the unknown future; for whatever we sow we reap here in this life and the life to come.
What then is your advice to the president?
I saw a vision before he came, and I found out that it was God who set him up to make some corrections, I also saw another vision that shocked me. I saw some people who disguised themselves. Just immediately after the swearing-in, the President faced a direction of his own and suddenly those people came and blocked his way thereby blocking his ideas. Now, the President is fighting an internal battle against those blocking his ideas to the complex nature of Nigerians who think that Nigeria is in their hands and anybody outside their circle cannot rule Nigeria . That is the present situation of the President and the voice of God says that I should tell him; that Jonathan should even use the senate to enshrine it in the constitution that this day will be a day where Nigerians will pray for the presidency of the country; that God will help the leadership of this country to lead his people, if not, his own mistake will be worse than those before him. He should declare the day as a public holiday where churches and mosques will open that day or even in their homes or offices to pray and say God help Nigeria ; God lead Nigeria ; God govern Nigeria . When that is done, it will surprise him that these entire devil's heads that are rising up little by little will calm down. Let him try it and if it doesn't work, let him know that it is not God that has spoken to me.