BAYELSA STATE GOVERNORSHIP: WHY I MAY CONTEST: by Idumange John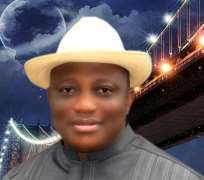 I have voted for people in several elections all my life. Sadly, I have not seen genuine service, sacrifice, integrity and humanity in governance. Today, I have been under pressure from students, some progressive elders, stakeholders and civil society organizations to contest the office of Governor of Bayelsa State. When I complained to my daughter that there was so much injustice in the land, she said to me, why can't you provide leadership for this nation, beginning with our State –Bayelsa State since you now know the pains of injustice? I can feel the echo of her voice, daddy, they will vote for you – be courageous…"
Now, I have been summoned by stakeholders to make up my mind. They say with my open mindedness, versatility and knack for service to humanity, they will stand solidly behind me. I have had sleepless nights, meditated on it and as each day unfolds, I am getting persuaded that if people with very grubby records of public service – who have cheated the masses, have the temerity to contest, then, in a free and fair atmosphere, I will not only have a landslide victory but raise the stakes of good governance. I took solace in the wise saying of Mahatma Gandhi that "The best way to find yourself is to lose yourself in the service of others". I am on a journey of self discovery to make that sacrifice now. I have not decided on the party platform to adopt, but I have not ruled out any of the political parties. Einstein also whispered into my ears "Only a life lived in the service to others is worth living". As I engage my constituencies in broad-based consultations, I need the prayers of all children, women, elders, the public and stakeholders, so God will show us the way to recapture our past glory.
May God bless Bayelsa State
Idumange John
Disclaimer:

"The views/contents expressed in this article are the sole responsibility of

Idumange John

and do not necessarily reflect those of The Nigerian Voice. The Nigerian Voice will not be responsible or liable for any inaccurate or incorrect statements contained in this article."
Articles by Idumange John