E-x-c-l-u-s-i-v-e: MERCY JOHNSON'S WEDDING! FRILLS TO THRILL ON THE BIG DAY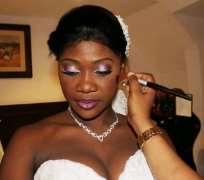 Despite the scandal that trails the much talked about wedding of popular actress, Mercy Johnson to her boyfriend of two years, Prince Odianosen Okojie, the glamorous wedding holds as planned.
They kick started the marriage ceremony against all odds on Friday August 26 2011 at her parents house in Iba,an outskirt of Lagos.
The event was the traditional arm of the wedding- and it was coated with the intimidating presence of security operatives.
The media and uninvited guests were kept out of the venue.
The wedding proper started off at 12.00 p.m August 27 2011, with a registry and holy solemnization at Christ Embassy- just like the traditional ceremony, the venues were heavily guarded.
The media was expressly forbidden entry and coverage of the event.
The event attracted dignitaries from all walks of life including entertainers and politicos.i.e Genevieve Nnaji, Emeka Ike, Jim Iyke, Segun Arinze, Keneth Okonkwo, Patience Ozokwo, Chinedu Ikedieze, Majid Mitchel, Francis Duru, Speaker, Edo State House of Assembly, DJ Jimmy Jatt, Mike Ezunronye and many others were at the wedding.
A mentally derailed woman protested the holding of the wedding at the frontage of Christ Embassy, Oregun Lagos.
Her anti wedding antics were check mated by security personnel at the place.
Just like the other parts of the ceremony- uninvited guests are explicitly not to be allowed in.
The reason is to ensure any unknown or unwanted persons to come disrupt proceedings inside.
After the church programs and activities, the wedding train then moved to 10 Degrees, venue of the reception.
Mercy arrived the reception point in a stretch Limousine, in the company of Odi, her husband.
Bridal train include Waje, Empress Njamah, Chika Ike, Queen Nwokoye, and Goldie.
Grooms men include Oshe Mai,Matthew Mei,Oriaba Wuha,Akere Okojie,Ebi Okojie and Mei in Men.
Maid of Honour(Evone Nelson),Ring Bearer(David Israel) Little Bride(Wealth Patrick).
AY was MC, Jimmy Jatt,the Dj on the wheel of steel really dish out good songs .
Live music from Godbless Band and Navy Band.
Guests and Media men at the place were however treated to doses of tear gas by security men ,when The bride,Mercy rolled down for camera lens.
Over zealous security men had termed surge by photographers to capture the moment for prosperity a threat and tear gassed them, along with guests as parts of efforts to contain the situation.
The action that almost spiraled into a stampede that resulted in manhandling of invitees before it was brought under control.
The couple, we were told will observe their honeymoon either in Seychelles or Malta.
Story still developing.
click the link below to go to...
EXCLUSIVE PICTURES: AT LAST! PRINCE ODIANOSEN EXCHANGED MARITAL VOWS WITH MERCY JOHNSON AT CHRIST EMBASSY.
STAR ACTRESS MERCY JOHNSON'S TRADITIONAL WEDDING PICTURES.
PRINCE ODIANOSEN,ESTRANGED WIFE,LOVELY OKOGIE FINALLY LOST THE BATTLE TO MERCY JOHNSON.
NO EVIL HANDS OR THOUGHT AGAINST MERCY CAN WORK.MERCY JOHNSON'S MOTHER.
LOVELY OKOJIE REACTS TO PRINCE ODI'S INTERVIEW,HE IS A BIG LIAR.
EXCLUSIVE! MERCY JOHNSON WEDDING PLANS SUFFERS SET BACK AS PRINCE ODIANOSEN'S WIFE SHOWS UP WITH KIDS.
MERCY JOHNSON IN DISTRESS,RAN TO MOUNTAIN OF FIRE MINISTRIES TO SEEK FOR DIVINE INTERVENTION.
WEDDING: MERCY JOHNSON PICKS AUGUST DATE AND DETAILS OF THE SUPERLATIVE WEDDING.
EXCLUSIVE;GAMEOVER FOR MERCY JOHNSON AS FIANCE'S WIFE CAME UP WITH MARRIAGE CERTIFICATE.
E-X-C-L-U-S-I-V-E Interview: The Certificate I Signed Was For Our Child's Welfare'-Mercy Johnson's Hubby Said At Last.
© 2011 Nollywoodgists.com. All rights reserved. This material may not be published, broadcast, rewritten or redistributed without the express written consent of the publisher

Bridal train Waje, Empress Njamah, Chika Ike, Queen Nwokoye