ORLANDO JULIUS' FIVE DECADES OF SHOWMANSHIP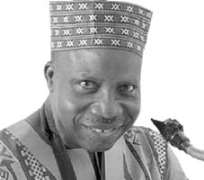 Popular highlife singer, Dr. Orlando Julius Ekemode, will on Sunday September 4, mark his 50 years on stage. The singer cum saxophonist is set to celebrate the golden jubilee with the launch of his 60 tracks (5 CD pack) golden tunes.
According to to the planning committee, the musician has slated activities for Oranmiyan Hall, Airport Hotel, Ikeja, Lagos, beginning from 2pm. Expected as special guests of honour at the epoch-making ceremony are dignitaries like Governor Babatunde Fashola of Lagos State, his Osun State counterpart, Ogbeni Rauf Aregbesola, as well as legal luminary, Chief Afe Babalola.
Chairman on the occasion is Chief Rasheed Gbadamosi while Dr. Victor Abimbila Olaiya is Father of the Day. Speaking to Daily Sun, Orlando's wife, Mrs. Latoya Aduke Ekemode, described her husband as a visionary artiste, who uses music as a tool to impact positively on his generation; aside from setting standards to mould the minds of people around the world. He does this through his advocacy for love, peace and unity among adults and children.
Although fondly called O.J. by friends and admirers, the musician's real name is Orlando Julius Aremu Olusanya Ekemode. An indigene of Ilesha, Osun State, he was born in Ikole-Ekiti to a trading family. He is the fourth son and the younger brother of Professor Gabriel Ekemode of the Obafemi Awolowo University, Ile-Ife. His journey into music began many years ago when he was a pupil of St. Peters Anglican School, Ikole-Ekiti. As a young boy, he played drums and blew flute for the school band as well as for a local band, known as Mambo Dance Band.
After completing his primary education in 1957, he left for Ibadan in search of job. While working in the city, he tried to keep alive his dream of pursuing a career in music. He had stints as a drummer and flutist under J. Oyeshiku, Julius Araba and a Ghanaian Cotey Necoy but his real ambition was to become a saxophonist.
In keeping with the tradition of the time, he took up apprenticeship with Ademola Haastrup (a.k.a Jazz Romero) and one of the brightest horns-men around then. Orlando landed at Jos with Romero's band, Action Group Band. He was not only impressed with the band's organisation but also thought it to be the most equipped band in the , which provided great opportunities for up-coming musicians to practise and groom themselves.
Also, in his early life as a musician, he played with the then popular highlife musicians like Rex Williams, Eddie Okonta, Louis Armstrong, V.S. Akinbosun, I.K. Dairo and others. While working with Eddie Okonta, he was made the horn arranger and parts scorer. Orlando Julius played with Eddie Okonta on WNTV Ibadan; the first television station in Africa, and also toured Nigeria with Eddie Okonta and his Top Aces.
Ekemode later formed his own band, Modern Aces, which ruled the country's musical world then. He later moved to the US where he met top musicians like James Brown, Isaac Hayes, Chaka Khan and Rafus, Gil Scot Herron, the Ojays, Gladys Knight and the Pips, Harold Melvin and the Blue Notes, Staple Singers and Curtis Mayfield. Orlando studied in the US, specialising in audio engineering and production at Bear West Studios after which he studied film production at the Berkeley Film Institute. He also attended Lanely College for Photography and Television Production alongside a number of music courses. Under his tutelage in the US, many 'World Beat' bands were established throughout the Bay Area and in San Francisco.
Meanwhile, Latoya Aduke Ekemode hinted further that Orlando wanted to use the 50th anniversary to foster unity among Nigerian musicians and to gather people around the world to celebrate the success of music in Nigeria.