REVEALED;THE AMAZING WEALTH OF EX GOV.TINUBU'S LATE DRIVER,PADDLER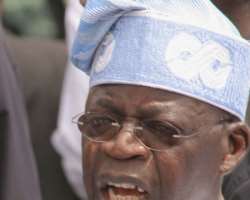 On Saturday, July 30, 2011, Alhaji Mustapha Safiyu Oloyede popularly known as "Paddler", who was a driver of former Lagos State Governor and National Leader of the Action Congress of Nigeria, ACN, Asiwaju Bola Ahmed Tinubu, was committed to mother earth at his residence in Lagos according to Muslim rites.
The late Paddler had died the night before at a hospital in Lagos from what doctors described as heart attack.
Insiders however informed us, that Alhaji Mustapha's death may not be unconnected to a protracted kidney ailment which he had been battling for some time now.
According to them, Paddler returned from India a few months ago where he had gone for kidney transplant. Those in the know say the operation was successful and he had returned to the country healthy. "He had even started visiting his boss place at Bourdillon, according to our source, when he relapsed and had to be rushed to the hospital, where he died via heart attack.
Those insiders are also spreading the tales of the stupendous wealth of this driver who was practically a member of the Tinubu family, having served the top politician for over 20years.
According to them, Paddler who died at 48 years was a very wealthy man.
Those who spread the tale allege that the late man owned about 18 houses all over Lagos. He is also said to own three Petrol Filling Stations and was erecting a massive shopping plaza in the Lekki area before death came calling.
The late Paddler, they said was a loyal and amiable fellow whom his boss held in trust and rewarded generously.
Since his death, those close to the Tinubu household, maintain that the statesman has remained in a state of shock over Paddlers demise.