KILL GADDAFI, GET $1.3M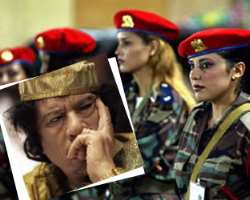 Libya's fallen dictator, Col. Moammar Gaddafi and Guards
Libya's fallen dictator, Col. Moammar Gaddafi, was on Wednesday declared wanted 'dead or alive' by the rebels who swept him from power. Gaddafi's 42 years rule ended effectively on Tuesday after the rebels seized his fortress-like home.
The National Transition Council, the rebels' highest decision-making body, also declared that a $1.3m bounty (two million dinars in the country's currency) will be paid to whoever handed Gaddafi or his corpse in.
However, the whereabouts of the former Libyan leader hasn't been known since Tuesday when rebels overran the Bab al-Aziziya fortress in Tripoli, the Libyan capital.
All through Wednesday, the whereabouts of Gaddafi was a subject for speculations. While there were suspicions that he might have fled the country, the chairman of the NTC, Mustafa Abdel Jalil, said Gaddafi might still be in or around Tripoli.
Jalil, who was one of Gaddafi's ministers before defecting in February, said an unnamed businessman offered to pay the bounty placed on Gaddafi.
He said the incoming administration would offer amnesty to any remaining member of Gaddafi's entourage who killed or captured him.
'To any of his inner circle who kill Gaddafi or capture him, society will give amnesty or pardon for any crime he has committed,' Abdel Jalil told a news conference in Benghazi.
'To any of his inner circle who kill Gaddafi or capture him, society will give amnesty or pardon for any crime he has committed,' Abdel Jalil told a news conference in Benghazi.
Reuters quoted Abdel Salam Jalloud, a close ally of Gaddafi who switched sides in the past week, as saying that the former dictator had a plan to launch a guerrilla campaign once NATO air forces had been called off.
'I believe he is in Tripoli,' Jalloud said. 'The rebels must open the roads, after they open the roads, he may dress in women's clothes and leave Tripoli to Algeria's borders or Chad.
'He is sick with power. He believes he can gather his supporters and carry out attacks…He is delusional. He thinks he can return to power.'
A message aired on two Arab networks, according to the CNN, purportedly from Gaddafi, however, confirmed that the Libyan strongman might not be prepared to leave power despite his losses.
Gaddafi, in the aired message, called on Libyans 'to clear the city of Tripoli and eliminate the criminals, traitors and rats.'
'They are hiding between the families and inside the civilian houses. It is your duty to enter these houses and take them out,' the message said. But CNN said it could not confirm the veracity of the tape.
Meanwhile, Tripoli on Wednesday remained a war zone as rebels pushed to totally secure the capital city. For several hours, gunshots boomed around the city as rebel forces battled to repel the remnants of Gaddafi loyal fighter.
'Many of the loyalists are members of the fugitive leader's tribe or professional soldiers, and are prepared to fight to the death,' BBC reports says.
There was also heavy gunfire earlier in the area around the capital's Rixos Hotel, where about 30 foreign journalists had been confined for several days by armed Gaddafi loyalists.
'When we got driven out, we discovered we had been inside a 200 sq m piece of Tripoli, where two gunmen believed that they were fighting still on behalf of Col. Gaddafi, and that the battle was still going on for Tripoli even though the whole world had seen the city had fallen,' one of the trapped journalists, Matthew Price of BBC reportedly said.
Residents in the Libyan capital remained apprehensive throughout Wednesday. The streets were devoid of social and business activities as shops were closed. Rebels manned checkpoints along the main thoroughfare into the city from the west.
News reports indicate that people were defacing or erasing Gaddafi portraits and other symbols on the streets in a city where they were once ubiquitous. They painted over street names and renamed them for rebel fighters who had become 'martyrs.'
A spokesman for Gaddafi said the Libyan leader was ready to resist the rebels for months, or even years.
'We will turn Libya into a volcano of lava and fire under the feet of the invaders and their treacherous agents,' Moussa Ibrahim said, speaking by telephone. Rebel leaders would not enjoy peace if they carried out their plans to move to Tripoli from Benghazi, he said.