TINUBU LIED, U.S CUSTOMS AND IMMIGRATION OFFICIAL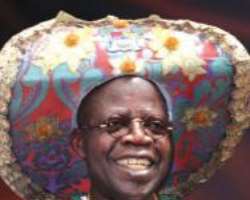 Contrary to recent denials by ex-Governor Ahmed Bola Tinubu of Lagos State that he was grilled by airport officials while recently attending the inauguration of President Barack Obama, we obtained a concrete information that he was indeed interrogated for alleged past criminal activities in the United States on January 18, 2009.
Although, the earlier version of Bola Tinubu's ordeal, scooped by Nigeria's Compass Newspaper alleged that the "awkward" predicament took place at the J.F Kennedy Airport in New York, fresh details unearthed by us indicate that he was actually stopped and questioned at the Washington Dulles International Airport, DC for three hours by officials of the United States Customs and Immigration Services, USCIS.
According to a USCIS source "I cannot give you all the details but we had interrogated him on some issues we have on file against him, he is person of interest because of his controversial network of indicted past and present friends as well as a questionable lifestyle as a Politically Exposed Person"
Asked what the issues were and for how long he was interrogated the USCIS official said "you cannot expect me to give you a break down of all that, I can only tell you that he had some drug related issues in Chicago and we just had a little routine questioning for about three hours, It is pretty routine to check up on persons with past drug history entering the US"
Another Source told us that Mr. Tinubu was specifically interrogated for an alleged involvement in a White Heroin trafficking network, which he operated while living in Chicago between 1988 and 1993.
Tinubu's heroin trafficking, according to court filings led to his forfeiture of N460, 000 USD from his bank accounts at one First Heritage Bank with account number 263226700 where proceeds from the illegal drug business were to said to have been kept and another account with Citi Bank, N.A with account numbers 39483134, 39483396, 4650279566, 00400220, 39936404 and 39936383 held in the name of Bola Tinubu.
The USCIS source said the investigations on the former Governor's past are still on-going as he is bound to be scrutinized or out rightly arrested and prosecuted if ongoing investigations about the plan by his gang to kill law enforcement officials during his drug operations link him directly to the plot.
Earlier, Mr. Tinubu through his former Commissioner for Information and Strategy Mr. Dele Alake had issued a statement debunking the allegation of the "arrest" of the former Governor. He described the report as shocking and a brazen assault on the truth as well as the ethical foundations of the journalism profession.
He added that "the truth is that Asiwaju Tinubu was never quizzed by any US agency, not even for one minute."
By Pointblanknews