SPORADIC FIGHTING HITS TRIPOLI AS GADHAFI FORCES FIGHT BACK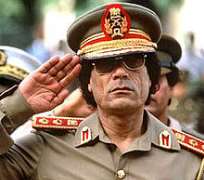 Fighting raged yesterday as Mohammed Gadhafi's troops fought back near his Tripoli compound a day after it was captured.
Pro-regime snipers cut off the road to Tripoli's airport, fired at motorists near the capital's port and launched repeated attacks on Gadhafi's sprawling government compound, stormed by thousands of rebels Tuesday.
Still the opposition fighters claimed they now control most of Tripoli. Streets were largely deserted, scattered with debris, broken glass and other remnants of fighting, while rebels manned checkpoints every few hundred yards.
But there were intense clashes in the Abu Salim neighborhood next to Gadhafi's Bab al-Aziziya compound. A steady barrage of automatic weapons fire and heavy weapons were heard in the surrounding area where Gadhafi loyalists were still fighting as at press time. Abu Salim is home to a notorious prison and thought to be one of the last remaining regime strongholds within the capital.
Rebels stormed Gadhafi's compound Tuesday but found no sign of the longtime leader. Still the conquest effectively signaled the end of the regime, even though the opposition may face pockets of stiff resistance for some time to come. And rebels know they cannot really proclaim victory until Gadhafi is found.
Yesterday morning, rebel fighters said they controlled most of Bab al-Aziziya but not all of it. The rebel fighters are now using Bab al-Aziziya as staging area for their operations, loading huge trucks with ammunition and discussing where they need to deploy.
In another front, rebels advancing towards Sirte, the hometown of Gadhafi, were blocked Wednesday in the town of Bin Jawad as loyalists kept a stiff resistance, an insurgent commander said. After taking Ras Lanuf, 150 kilometres (93 miles) west of Sirte, the rebels had advanced up to Bin Jawad, but were stuck there as they came under heavy artillery, rebel commander Fawzi Bukatif told AFP. 'Gadhafi's forces are still fighting, we are surprised. We thought they would surrender with the fall of Tripoli,' Bukatif said in the nearby coastal town of Zuwaytina which also houses an oil exporting port.
'Maybe something or somebody is behind them,' he said, adding 'maybe' when asked if he was referring to Gadhafi or his sons. 'They built their defence lines on the 'Red Valley' ahead of Sirte. We are starting negotiations but they are blocked,' he said without elaborating.
'It seems they will not surrender but we want to save the town and keep it as good as possible. We are trying to get free access to Sirte to establish a security committee there so our forces can guarantee that everything is in order. It is a question of time.'
Escape tunnels beneath his compound
Colonel Gadhafi may have managed to escape capture by using a bunker and tunnel system underneath his compound in Tripoli. The man who ruled Libya for 42 years is known to have deep bunkers under his Bab al Aziziya lair, which rebel fighters seized on Tuesday. Some former Gadhafi officials said the compound is connected by long tunnels to far-flung parts of Tripoli in a hidden network that would have provided him with a quick escape route.
However, few people claim to have seen the tunnels and it is not certain they even exist. But the reported 'underground city' fits in with his sporadic movements throughout the six-month uprising, during which he would make sudden appearances in public, then vanish.
Many rebels are convinced he is now holed up somewhere in the sprawling al Aziziya compound. One senior official, Fathi al Baja, said there were reports that Gadhafi 69, had suffered a heart attack and was bedridden.
When rebels overran the complex they found hoards of weapons, one of the golf carts Gadhafi used to get around and his Bedouin tents but the dictator, his sons and bodyguards were not there.
'There are so many rat holes in Tripoli. We are searching for him in the holes,' said Colonel Ahmed Bani, a rebel military spokesman. Opposition activist Mohammed Ganbawa said the rebels believe that in recent weeks Col Gadhafi moved between the homes of his sons and slept in a hospital.
He is even believed to have stayed in the Rixos Hotel, where international foreign media covering the conflict are being 'held hostage'. Bab al Aziziya is known to have a bunker built for Col Gaddafi by West German engineers to withstand a massive attack.
Liacyr Ribeiro, a surgeon who performed plastic surgery on him in 1995, is among the few who claim first-hand knowledge of the hideout. Dr Ribeiro was escorted underground to the bunker, which he said had two fully equipped and modern operating rooms, a gym and a swimming pool.
Omar Hussein, who served in the Tripoli police force until he joined the rebels , said it was widely believed that Bab al Aziziya sits on top of an 'underground city'. 'We know that there are tunnels linking his compound with the Old City, where the Red Fort is located, and to the main security headquarters,' he said.
$1.3m prize placed on his head
… As he boasts of walking incognito
Libyan rebels yesterday offered a $1.3 million reward for the elusive strongman, Mohammed Gahdafi, dead or alive. Council chairman Mustafa Abdel Jalil said it was offering an amnesty to any of Gadhafi's entourage who kill or capture him. He also said a Benghazi businessman, whom he did not identify, had offered a reward of two million Libyan dinars ($1.3 million) for Gaddafi's capture.
'The National Transitional Council announces that any of his inner circle who kill Gaddafi or capture him, society will give amnesty or pardon for any crime he has committed,' he told a news conference.
Meanwhile, in a speech carried early yesterday by the website of a TV station headed by his son, Seif al-Islam, Gadhafi said he had abandoned his compound in a 'tactical withdrawal' after it had been wrecked by NATO warplanes. The compound was hit by 64 NATO air strikes.
He vowed 'martyrdom' or victory in his six-month war against the Western alliance and Libyan foes. 'Bab al-Aziziya was nothing but a heap of rubble after it was the target of 64 NATO missiles and we withdrew from it for tactical reasons,' he said. In a later audio message on Syria-based Arrai Oruba television, Gadhafi boasted that he had taken to the streets of Tripoli without being recognised.
'I walked incognito, without anyone seeing me, and I saw youths ready to defend their city,' he said, without specifying when he did his walkabout. He also urged 'the residents, the tribes, the elderly to go into the streets … and cleanse Tripoli of rats' referring to the rebels.
Wherever he may be, the rebel National Transitional Council wants him, dead or alive, and has put a $1.7 million (1.2 million euro) price on his head. 'The NTC supports the initiative of businessmen who are offering two million dinars for the capture of Moamer Gadhafi, dead or alive,' NTC chief Mustafa Abdel Jalil said in Benghazi. Abdel Jalil also offered amnesty to 'members of (Gadhafi's) close circle who kill him or capture him.'