WE NEED 5 WEEKS CAMPING TO QUALIFY -EGUAVOEN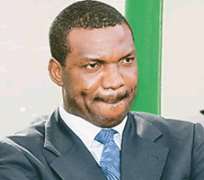 Chief Coach of the national Under-23 side, Dream team V, Augustine Eguavoen, has disclosed that he would review his already submitted programme for the eight nations Olympic Games qualifier billed to hold in Egypt.
Eguavoen said that the review became imperative following the change in date of the qualifying championship. 'O! Yes, I would have to review my programme because it's no longer the first week of December but the last week of November, so with this change, my whole programme will now change '.
He added: 'I cannot give you a specific date right now but preparations will begin in earnest in the first week of October, what ever is the case, I want to have, at least, five weeks of intense camping with many friendly matches'
The Super Eagles' former gaffer, who is now in the ancient City of Benin, revealed that he would meet the technical committee of the Nigeria Football Federation (NFF) this week to finalise plans and get formal approval for his programme.
'I spoke with the technical committee chairman, Barr. Chris Green, and promised to get back to me today (Tuesday) on my proposed programme for the qualifier'.
On the award of the host right to Egypt, Cerezo as Austin Eguavoen is fondly called by fans and associates, said he believes all the teams have equal chance of qualification.'
Egypt, no doubt, would enjoy home advantage but I believe all the teams have equal chance of qualifying because officiating at tournaments of this magnitude are very fair, so its up to us to put together a killer squad that would do well by the grace of God'.
The Confederation of Africa Football (CAF) on Monday handed Egypt the host right for the African men's final Olympic qualifying round.
The draw for the tournament will be held in September during Caf's Executive Committee meeting in the Egyptian capital Cairo, where the teams will be divided into two groups of four.
Alongside host, Egypt, the other participating teams are: Algeria, Gabon, Ivory Coast, Morocco, Nigeria, Senegal and South Africa.
The top three-placed teams automatically qualify for London, while the fourth best team will engage a team from Asia in a play-off. The London Olympics will take place from 27 July to 12 August 2012.