WELCOME TO NIGERIAN AIRPORTS, WHERE CUSTOMERS ARE SLAVES?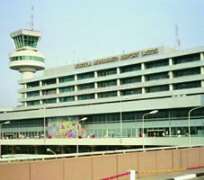 Customer satisfaction is one issue airlines and service providers in the country are not fully attuned to and as such it has remained unaddressed for a long time.
On a daily basis, passengers complain of one form of abuse or the other and in most cases, they are not compensated. While there is no perfect system anywhere in the world, it appears the 'dehumanising' treatment is worse in Nigeria as aviation service providers and agencies see themselves as gods who should be served rather serve others as stipulated in their job description.
Such was the shocking discovery of the Managing Director/Chief Executive of the Federal Airports Authority of Nigeria (FAAN), Richard Aisuebeogun, when he assumed office four years ago.
Since then, changing their orientation to suit the realities of the day has been an and still remains uphill task as some of his staff enjoy harassing rather than embracing their customers.
The poor services from the agencies to the airlines are at times, linked to the poor services airlines offer their own customers and the vicious cycle continues with the passengers at the receiving end.
From incredible airfares to flight delays; high baggage charge to baggage loss; insolent staff to tough bureaucracy in buying and confirming tickets; uncomfortable terminals to unsecured car parks; the passengers have been on the receiving end of the anomalies.
There are also cases of deliberate overbooking and passengers are told to arrive the airport two hours before departure for a local flight, which is 45 minutes in other climes. As soon as the last passenger boards to get the airline a full flight, others are told to wait for another flight or, at times, told that the boarding had closed, irrespective of the fact they were on queue to get their boarding passes and the flight up to one hour 45 minutes away.
Today, hundreds of passengers are threatening to drag airlines to court over various 'offences'.
There are countless cases where passengers book and pay for tickets online, only to get to the check-in kiosks and be told that the ticket cannot be confirmed for indescribable reasons. Such is the experience of Adegboye Adeyanju of the Department of English and Literary Studies, University of Abuja, who said he got dehumanising treatment from Aero.
According to him, he had booked and paid for an Abuja-Lagos flight online at the rate of N8,600 and for no fault of his, he could not make the flight. On the day of travel, he was advised to buy ticket for N43,300 if he was still interested in making the flight and helplessly, he obliged as he had a international flight to catch later that night. According to him, several mails to the airline is yet to yield any fruit but he is still pushing on.
Another passenger, Uche Ijere, lost his bag containing valuables on Ethiopian Airline's flight from Bangkok few years back.
He told Daily Sun that after many months of battle for compensation, the shock and loss eventually led to the untimely death of his wife, who owned majority of the valuables in the lost bag. He added that several letters by his lawyer to the NCAA Consumer Protection Directorate (CPD) did not realise anything. Analysts say airlines, all over the world, always find ways of dodging compensation and if they are not strongly handled, they can escape it.
Unfortunaltely, there are many passengers, who share the same, if not worse experience, like Adeyanju and Ijere and due to the 'Nigerian' factor, they lick their wounds. Some, who manage to report the story to appropriate quarters, including the CPD of the Nigerian Civil Aviation Authority (NCAA), are discouraged by incredible bureaucracy.
Due to oscillating price of aviation fuel and other operational issues raised by local airlines, today, air travellers buy tickets for a one hour flight as high as N45,000 as against N17,000 in January.
If anyone thinks that ends their travel ordeal, then such an individual is making a mistake because there are other issues they have to contend with. For passengers travelling via the Murtala Muhammed Airport terminal 2 (MMA 2), there is a new harassment they face there.
After purchasing tickets and obtaining the boarding pass, MMA 2 staff, stationed close to the departure hall, demand they pay N2,500, which is Passenger Service Charge (PSC). Ordinarily, the PSC is built into the ticket, which the airline ought to remit to the airport management but Bi-Courtney Aviation Services Limited (BASL) says it has seen hell in the hands of the airlines, who collect the money from the passengers but have perennially failed to remit same to the company.
The manual PSC collection, oftentimes, turn the terminal into a typical commercial bus garage with passengers, airlines' and MMA 2's staff, slugging it out over rights abuse. Worse hit are physically challenged passengers, especially those of them on wheelchairs. They claim they are often treated like outcasts by airlines' staff because they are confined and as such cannot harass them for their insolence.
They disabled passengers say they are not put into consideration when airports in the country are built. They say most terminals are not accessible in the sense that there are no smooth walkways for wheelchair passengers to make moving them to terminal buildings easier. Worse still, they add that the airlines and ground handling companies do not have adequate and well-kept wheelchairs for them and as such puts their health at risk.
One of them, Ifeyinwa Okafor, who spoke with Daily Sun, recently said she was once carried by a wheelchair, which had been used for another person who urinated on it but was not cleaned.
She also complained of the toilets at the airports not having conveniences meant for physically challenged persons.
'I once sat on a wheelchair and discovered it was wet and stank of urine. I was shocked and brought it to the knowledge of an airline staff. Of course, nothing was done as I only got a passing apology. The problem with this is that one can easily contract diseases. When you go overseas, you see the toilets meant for physically challenged persons and they're user-friendly. These are lacking here and we need them to be put in place. We're also human beings,' she said.
Aside from the aforementioned category of travellers, other class of passengers also face hell before embarking on a journey and even when while in flight, they are greeted by poor onboard services, ranging from insolent crew to poor menu. The regular nightmare occurs both on the domestic and international flights and the culprits (the airlines) seem to be getting away with it.
Travel experts say standards are falling in terms of meeting customers' needs as government has constantly focused mainly on safety and security and neglecting that important aspect. In the peculiar Nigerian environment where infrastructural decay and high operational cost are the order of the day, domestic airlines and agencies are busy trading blames over why service delivery is still low and why the customers are worse off for it.
Passengers buy tickets at very high amount and they walk into the terminal building only to be greeted by hot and pungent atmosphere. Besides the unfriendly atmosphere, they walk into the toilets and meet them unflushed. In some cases, the floor is either waterlogged or the flushing system faulty and one will need to scoop water from a plastic reservoir into a bucket to flush.
Yet, those pretending to be cleaners, will eagerly beg passengers for tips for 'keeping the place clean'. Unfortunately, passengers have paid for the PSC for using the 'facilities in a terminal'. When airlines delay flights, at times, they leave the passengers in the dark. They only attempt to make announcements on the flight only when they sense that the travellers were becoming restive. When passengers seek refund, the process is almost discouraging with airlines' front desk staff, looking at customer with scorn and disdain.
Airlines' officials and their customers readily engage in verbal war such that passengers wonder if they are well trained in customer management. Few months ago, the former Minister of Aviation, Mrs Fidelia Njeze, called on all airlines, domestic and foreign, to treat their passengers with dignity even as she revealed that the CPD of the NCAA received a total of 46, 999 complaints against airlines between January and December 2010.
The minister, who did not disclose the number of complaints that were treated out of the 46, 998 cases before the CPD, appealed to airline operators to remind their personnel on the need to treat passengers with courtesy, especially Nigerians wherever they may be. Njeze also did not disclose whether those who made the complaints were foreigners or Nigerians and equally did not disclose the airlines involved.
Several ministers, on appointment, always pledge to ensure passenger comfort is not compromised but little effort is done to realize.
According to Chief Executive Officer of PDP Consulting, Taiwo Adenekan, government has done so much to improve safety and security in the aviation sector but added that customer satisfaction is down.
'We have done so much in safety and security. I can say that those areas have been substantially taken care of. But the area, begging for attention is customer satisfaction and consumer protection. What are we doing about it? What are the agencies doing?
What is the aviation ministry doing? We need to urgently address customer satisfaction. People buy tickets at very incredible prices and yet the same flight is delayed over flimsy reasons. Some travel and lose their bags and getting compensation is an uphill task. Some flights are delayed by over seven or eight hours and no one gives the helpless passengers refreshments or, where necessary, real meals. Some international flights are cancelled and passengers are left at the terminal and not quartered into hotels. The terminals are old and congested. The sitting area in not comfortable and many more issues that are not passenger friendly,' he said.
According to the Director-General of the NCAA, Dr Harold Demuren, the country is working hard to domesticate the new set of rules published for the CPD. He, however, expressed doubt over Nigeria's readiness to embrace it.
'I'm not really sure that we are ready for it right now. Let me explain this; you must not forget societal problems. There are other things that cause delay that are beyond our own control; so, where do you figure that into? Who pays for that? You need to be a bit careful. Those are the things that we should be discussing and see how we can resolve these issues. But definitely, NCAA is doing something. We are working tremendously now on the consumer protection.
There is going to be bill of rights to be issued out and meant for all travellers. You know your rights and everything; we are going to come up with some publication, which we are bringing out. However, whether it is delay, loss of baggage, broken baggage, flight cancellation, refund, etc., they're are the things that we are trying to address. There is going to be a public hearing where we will invite all of you to participate because you are also passengers and you have gotten a lot of experience at the airport.
You have seen what happens, we are going to be sitting down with you, we are going to work this out but we have a template. The template is clear on what we are going to do. We have our solicitors with us to see how we can take this to higher level so that people should know their right and we have told the airlines that they should not be afraid. Let me just give you one scenario; we accuse some of the foreign airlines; if I don't get my luggage, I fill a form and they will bring my luggage to me in my house.
When I am going, they will give me a kit to take away. So, we ask them; can we implement this in Nigeria? However, how do I look for them and take their luggage to their houses? Which address do we take it to? Before we do that, Customs want to open and check it and once you open it, the passenger will now tell you I have inside 100 cell phones, I have three golden wristwatches, I have five laptops and I put $5 million inside; how do you reconcile that? So, to a greater extent, that cannot be a reason not to allow this to work. We can, at least, do that under camera, when it is opened, it is opened under camera.'
'You know when we are having brutality, police abuse all over the world; what did they do? They put camera there so, whatever they do, we will see it and we will show the movies to you before you leave. Those are areas you can do but that is what is delaying it right now. We have worked on it on various occasions but the Customs insisted that they must open the luggage and the guy said if you open my bag, it is problem. So, we now say, we don't want this problem.
Come over, so that you can come and take your bag. If you are here in Lagos, you can come. Supposing you are in Jos and I have gotten home; supposing my home is Owerri, so you want me to fly to Lagos to come and open my bag? Those are the challenges that we have. So, please, bear with us as we work things out. These are societal problems and I think we can overcome it.
So, I wouldn't want us to get the police involved because everybody say, ha! Police. So, I say let's get the Customs; they say they will open the bag, they will not agree. I saw the petitions because passengers did not want anybody to open their bags in their absence. After all, any time I am travelling to the United States, they always open my bag and put a form there that says we have opened your bag. If you have any problem, please, call us.
I don't lock my bag, it is open already but in Nigeria, if you open a passenger's bag, he tells you that he is going to court to go and get an injunction. The airline cannot fly but this is a challenge before us in the aspect of consumer protection. We must resolve this; they can't beat us and that is what we need to do,' Demuren narrated.
Another aviation analyst and former airspace manager, Mr Sam Akerele, said it was high time airlines saw their customers as king. 'Without the passengers or customers, airlines will pack up and a good businessman, who wants to sustain and even grow his business, knows he cannot afford to toy with his customers. Here, airlines capitalise on the helplessness of the passengers to exploit them.
They know there are no good roads in the country and, as such, a good number of people will opt for the air transport. But if you don't treat them well, it will get to a stage where they will divert to the other means of transport. Perhaps, the airlines will sit up when the roads are better and perhaps rail transport introduced. Passengers with complaints should report to the airline's management. If they don't get justice, they can go to the CPD of the NCAA and if nothing happens there, they can petition the ministry. Customer dissatisfaction must stop,' he said.
The incumbent Aviation Minister, Mrs Stella Oduah, has also promised to look into passenger comfort and customer satisfaction in general while not leaving out safety and security. Though she has ordered rehabilitation works in some airports across the country, stakeholders are worried that the tempo.