TRADE: FG TO SIGN MOU WITH DEVELOPMENT PARTNER IN SEPT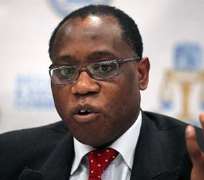 Minister of Trade and Investment, Dr. Olusegun Aganga
The Federal Government has said that the Memorandum of Understanding between it and development partners will be signed next month.
The Minister of Trade and Investment, Mr. Olusegun Aganga, disclosed this in Abuja during a meeting between him and the Governor of Oyo State, Mr. Abiola Ajimobi.
He added that the agreement, when signed, would help to reduce unemployment as opportunities for one million jobs would be created.
He also said the government would give full support to the N10bn Export Processing Zone to be built by the Oyo State Government.
The minister added that once the MOU was signed, about one million jobs would be created through the initiative.
He hinted that the ministry had already started repositioning the Free Trade Zone in the country for the purpose of economic development. He stressed that the Federal Government would work with the stakeholders to bring investors to Oyo State for the development of the Free Trade Zone in that state.
While lamenting that Oyo State had in the recent past deteriorated to a level of decadence socially and economically, the governor said there were a lot untapped resources in the state.
He said the state government was ready to unlock the resources to better the lots of the people through creation of wealth and jobs.
He said, 'We have put in place mechanism that will bring in so many investors and manufacturers and also to promote our transnational borders market such as Oke Ogun, which has boundary with the Benin Republic.
'We want to concentrate on agriculture and its commercialisation; your ministry cannot only help us in the area but can help attract investment in the state, we need a change and to grow our economy, this cannot be achieved without investors.'