2011 FIFA UNDER-20 WORLD CUP FALLOUT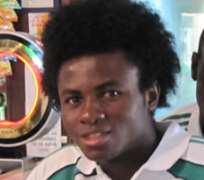 The junior national team, the Flying Eagles, has since returned to the country after crashing out of this year's FIFA Under-20 World Cup in Colombia at the quarterfinal stage, and one player, striker Sani Emmanuel, is deeply remorseful for the team's painful exit from the championship.
In a chat with Sunday Sunsports on Thursday, Emmanuel expressed his bitterness for the team's exit at the World Cup. He, however, apologised to Nigerians for the disappointment. He said he was disappointed for not being featured in the matches before the one against France.
'I apologise to millions of football fans across the country for our crashing out at the quarterfinal stage of the Under-20 World Cup in Colombia,' Emmanuel began. 'We never planned for the defeat. It was our desire to win the trophy for Nigeria, but our dream never come true. It was painful losing the way we lost to France.
'I still appeal to Nigerians to continue to support the team despite the lost. We actually gave our best, but unfortunately, it was not good enough to win Nigerians the trophy despite their tremendous support to our campaign.' The diminutive striker regrets that he was not given the opportunity in Colombia to play from the very first match against Guatemala until it got to the quarterfinals against France where he was fielded early into the competition.
'I have regrets with what happened in Colombia. I regret not being fielded in our first match against Guatemala. I only came into full match situation against France and unfortunately, that was the match that sent us out of the 2011 championship. 'It was not easy for me to gather myself together, but there was nothing I could have done. Our fate on whom to play and whom not to play was in the hands of the coach. And as faith had it for me, we crashed out with the very first match I was to play a key role.
'I urge Nigerians to forgive us for letting the nation down. I know Nigerians expected much from us and we got the needed support to excel from them, but we failed to deliver. 'I appreciate the efforts of the Nigeria Football Federation officials. They did their best for us, but we could not pay them back for their great support. It is a pity. We are sorry for the disappointment.'
The former player of My People's Football Academy revealed that his immediate plan was to go back to Italy to reintegrate with his club, Lazio, as the European season has kicked off. He also prays for a call-up to the Super Eagles.