MORNING AFTER BOMB SCARE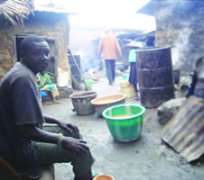 For many residents of Anguwan Ngas, a Bauchi suburb, not even the recent discovery of a bomb in the area can destroy the passion for dog meat and the locally brewed gin, brukutu, reports PAUL ORUDE
Lovers of brukutu, a popular, locally brewed gin, in Anguwan Ngas area of Bauchi have cast away the fears arising from the recent discovery of a bomb in the area. They have gone back to their first love: brukutu joints!
Anguwan Ngas, in Yelwa, is more popular for the sale and consumption of brukutu than any other business in Bauchi Metropolis.
Peppered dog meat is also not in short supply at Anguwan Ngas and it's always on offer – for a token. Pork is also in stock in most of the drinking joints.
This place of mixed-grill businesses is a melting pot that attracts all kinds of people – the rich the middle class and the simple-minded, carefree and poor. Here, as early as six in the morning, most poor people gather to drink brukutu in many of the shanties and ramshackle bars scattered across the area. Churches are also plenty in this largely slummy neighbourhood, competing with the local brewers of brukutu for the souls of men and women.
Although petty crimes are not ruled out of the neighbourhood, few, however, expected what was uncovered on August 8. On that day, residents of Anguwan Ngas woke up amidst panic. A bomb had been discovered in the area by a vigilant citizen. It was planted in a gutter along the road. 'If this bomb had exploded,' one of those brewing local gin in the area said, 'I can assure you that no fewer than 100 people would have died.'
As the news spread round, many people gathered and watched from a distance. Many of them shared the same opinion: the bomber targeted the Anguwan Ngas because of the large number of people, who come there on daily basis. 'It is a very busy area where there are many shops. Many people come here to drink alcohol and buy things from the shops,' one of them said.
And as they watched, a man in his late 40s stepped out from the crowd and offered to detonate the bomb.
An eyewitness said: 'Everyone was scared but he just walked out and said he was going to diffuse it. People started shouting at him to go back but he insisted that he could do it. He handed over his handset and an address in case anything happened to him. Then after several minutes, he did it. Everyone was shouting and hailing him but he left immediately.'
Daily Sun eventually traced the man, a motorbike operator in the area. He declined to talk about himself, however. He would also not mention his name for security reasons. When asked why he took such a risk knowing the implications, he replied that he was moved by the need to save lives. 'The bomb was timed and from the little experience I have, I knew it could explode any moment, so I had to take the risk,' he said.
Shortly after, the Police anti-bomb squad came to the scene and scanned the area for any possible danger before taking away the components. Speaking in his office with Daily Sun, Mr Ikechukwu Aduba, Commissioner of Police in Bauchi State, said what was dropped at Anguwan Ngas was a device with all the components of a bomb. Aduba said if detonated, the device could have caused maximum damage of one and a half kilometre.
'It was dropped in a gutter in an area that people normally take. We sent our bomb experts who successfully detonated the bomb,' he says.
The Commissioner of Police described the security challenge in the state as 'tough' for the command. Aduba noted, however, that he would not be deterred by what was going on, saying he regarded those who planted the bomb at Anguwan Ngas as hoodlums. Why the unknown bomber targeted a busy place where people normally come to socialise has remained a source of concern.
Anguwan Ngas is probably one of the busiest places in Bauchi after the Shadawanka Military Barracks. There was a bomb explosion at the military barracks on May 29, this year which claimed 13 lives and injured several others. People were drinking at the Mammy market in the barracks when the twin blast hit a section of the market where local gin is sold. Members of the Boko Haram Islamic sect claimed responsibility for the bomb blasts in the barracks. Many shocked residents believed the bomb was targeted at the people drinking.
Government establishments, especially police stations used to be targets. But of recent, alcohol drinking joints have become targets of bombers. In Maiduguri, reports have it that bombs have been hurled into some places where alcohol is being consumed. It has been fatal in most cases.
Many hotels where alcohol is sold in Bauchi have taken security measures after the bomb blasts at the Bauchi army barracks. But the same cannot be said of a place like Anguwan Ngas where local gins are brewed and sold.
When Daily Sun reporter visited the joints, it was discovered that many of those who patronised them were care-free. Despite of the bomb threat, activities in the area as well as the spirit of the people who patronise the places seemed not to have been affected. They are also members of the poor class.
'They think that they are not important but as you can see, they are being used as a bait to get certain demands by the enemy of government,' a resident, who also pleaded anonymity, told our correspondent. But not even a bomb scare can stop what has been going on for decades at Anguwan Ngas, residents seem to demonstrate.
Life goes on and brukutu has come to stay at Anguwan Ngas. Alcohol is the fastest selling business in Nigeria, a sociology lecturer, Professor Ogoh Alubo, has discovered in a study. Anguwan Ngas has also shown that the local gin, which has held the people together, is waxing stronger. As early as six or seven in the morning, you will surely see the early comers and those just smarting from hangover all ready for a new drinking session.
Not even the farming season can take the die-hard brukutu drinkers away from their social forum.
The bomb scare has gone into oblivion, and brukutu and roasted dog meat keep the fabric of this social order (some say disorder) of Anguwan Ngas alive round the clock.