'There Are A Lot Of Responsible Women In Entertainment'---------Sophia Ejiga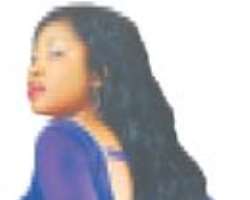 Sophia Ejiga is a Kogi born film producer, who loves to produce Yoruba language movies. The soft-spoken young woman reveals her other passions and aspirations to Reporter, Grace Omoshaba.
When did you start film production?
I started producing last year. My first movie was Were Meta, which featured Femi Branch and some other known faces. The next one was Olakunmi and it featured Funke Akindele, Femi Branch, OJB Jezreel, Mama Rainbow and others. We will be going on location soon to shoot the third one.
How were you able to produce three movies within a year?
I give God all the glory. When you are in love with your profession you will be successful in it. I really love my profession. I love acting although I started with singing. I love singing and I recorded an album with OJB Jezreel, which is yet to be released. I learnt from the mistakes I made with my first film. For this third one, I also give God all the glory because without Him things would not have worked out the way they did.
You said you learnt from your mistakes, what are these mistakes?
In my first film I spent over N1 million on production, which I needed not to have done. Where I was supposed to pay N100,000 for camera I paid over N200,000. I made sure I didn't make such mistake again. I've also learnt some things in production, the more you are into production the deeper you will know about it.
Do you also write?
Yes, I write my movies.
My focus for now is for the youths to learn from the movie, and I feature them. It could be an epic film, it could be a love story or a film about a member of the National Youth Service Corps (NYSC). I don't just focus on one story line.
Which area do you think your film has sent a good message to the youths?
In Were Meta the plot centres on three corps members and the message is for youths to be contented with whatever your parents give you. Once your parents send you to school, be focused, instead of going out with men and 'aristos,' for money. The three corps members were used for money making ritual. Olakunmi is about marital problems, where an American-based lady is spoilt and talks rudely to her husband. The man falls in love with a prostitute who has manners. If you don't respect your man another woman, even a prostitute, could win him over. The third one, which is forthcoming, is titled Igbekun Ife. It is about a couple in love but the husband gets married to another woman and the marriage crumbles. You will pick a lot of lessons from this. When you watch you will learn that when you love you should be able to see and know what you are doing. She also takes an oath with her husband and she couldn't have a child for him.
The setting seems to talk on love and women are you a gender writer?
No.
Are you married?
I'm single.
Maybe that is why you are writing like that.
No. But I'm a mother, I have two kids.
Looking at films in Nigeria, there are a lot of errors in production, which makes a watcher bored.
I think it is as a result of proliferation of producers.
I have noticed that in a lot of movies and I don't want to make the same mistakes. I don't know who is to blame but we are resolving that because we discussed it in our meetings. There are so many producers out there who do not know what they are doing; they just want to produce. The censors' board is working on that, if your film is not up to standard, you won't be given the certificate to release it.
But we still see these below standard films.
Yes. But that will change from this year.
As a young lady what is your aspiration?
In a few years time I want to be one of the best producers, who will like to uniquely project the Yoruba film positively at home and abroad.
I wish to be the first female producer to shoot the first classic movie, where I'll feature Hollywood and top Nollywood stars.
Would you say the Nigerian film industry is not up to standard?
We are up to standard, we are really trying, but if you watch American movies, you will know that we still need to grow up.
Could you let us in on some problems associated with film production in Nigeria.
Our producers don't have enough money to finance productions. If we can get funds from Globacom, MTN, to sponsor our movies then we will be able to shoot standard films.
Probably you guys are not making effort to get them to sponsor you, because they always sponsor a lot of musicians.
That is what we are trying to do now. After shooting Igbekun Ife that is what I intend doing in my next movie, get a sponsor.
You said you sing, what type of music do you do?
I do hip-hop and R 'n' B.
Do you rap?
No.
Do you think you can cope well with singing and producing?
I started with singing; music was my first love. I had an album in 2001.
A couple of actors dabbled into music but could not sustain the tempo.
I know, but I am with the right clique, I have an album, I was with a group under Dudu Heritage Ltd. We terminated the contract because I was not around for sometime. When I came back I did an albumOJB Jezreel produced itdue to some reasons I was unable to release before going in to production, I still have the album at home. I believe I can sing and if you have a talent you should not bury it.
What is your philosophy?
To be good to your fellow human beings.
Women in entertainment are generally regarded to be wayward...
As far as I am concerned it depend on you. It happens to entertainers because they are public figures, that is the reason people think they are not responsible. But there are a lot of responsible ladies in entertainment like Lola Alao, Funke Akindele and Omotola Jolade-Ekeinde among many others.
There are a lot of ladies these days who are going about idly without any meaningful thing to do. What advice do you have for them?
I advise them to be educated, it is very important. If you have any dream don't let any obstacle pull you down, in achieving that dream, they should take a step, if you take another one you will get there. They should also be focussed, they should not let anyone tell them you can't do it.