Entrance into Nollywood? Men are wicked !!! ---Amaka Okere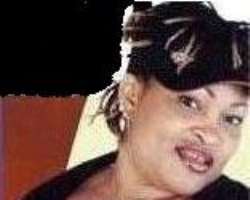 since I was a kid, I had always loved acting. I used to take part in drama while in school.
As an adult, I still wanted to act but didn't know how to get into the industry.
While at my salon in Ajao Estate, Andy Ike came to do her nails and I asked her how I could be part of the industry. She advised me to go to the National Theatre and register with the Actors Guild of Nigeria.
I did that and I started going for auditions until 2004 when I had my first job with late J.T. Tom West. The movie was titled Ghetto Crime.
Nostalgia
There is this movie I did titled Silent Wish, I will never forget that movie. In it, I played the role of the leader of some fetish cult girls alongside Monalisa Chinda, Jim Iyke etc and during the period of shooting the movie, I had a lot of problems. I was having nightmare, we did a lot of spiritual incantations.
As the leader of the cult girls I had to do so many incantations and I am sure those incantations affected me while shooting. I had an accident while shooting and my daughter was in front seat. She hit her head on the dash board and the person I hit was wounded but they forgave me when I apologized.
Sometimes, I had nightmares and will wake me up screaming. Ever since, I decided not to do any role that has to do with my making spiritual incantations. I used to pray before taking the roles, but I am not the prayer warrior kind of person.
The big break
The big break was Unhappy Moments. In the movie, I played the lead role and it really brought me out to the public eye. It was really challenging and I am happy that I got that role.
I was not even supposed to act the lead in that movie, it was supposed to be one big star but she was not at their disposal so they called and asked if I could do the lead role and I said yes, I did it.
Challenges
There are so many challenges that I can't mention all. All the same, I give God the glory. There was a time I even started doing the job of a location manager when it was difficult for some producers to get good locations. But after a while, I had to tell the producers that I am an actress, not a location manager when it started becoming a problem.
How has it been being a known face?
It's not been easy but it has given me lots of breakthrough, opened doors, and acknowledgements from many angles I never expected. It has also exposed me to some dangers and risk in life. It has generally given me the good and the bad sides.
Stardom is not easy to manage, especially if you are the type that gets carried away easily. I don't let it to control me, I control it.
I don't behave like a known face, I still do my things like Amaka would have done, known face or not.
Embarrassment
I was traveling and at the international airport, an immigration lady that knew me asked me to go without my bags being checked, but another man, maybe her boss, asked that I come back and open my bag to be checked. I accepted because I know it is their duty.
He upturned my whole bag and was searching everything one by one and all the time he was saying that actresses abuse the privilege given to them and carry drugs, adding that they had caught a lot of them.
People gathered round and where looking at me, many insinuating that I had been caught, others wondering why he took particular interest in going through all my bags. When he was finished and didn't see anything, I asked him to allow me take my time and package everything back as it was before. I was so embarrassed and felt like the ground should open and swallow me.
But then, in the midst of the embarrassing situation, a guy walked up to me and asked me to sign an autograph for him. That act alone gave me the courage to face the people there.
Movie run
Ghetto crime, Murder was the case, My sisters act, Buy me a rose, Unhappy moments, Silent wish, War in the Church, Behind the plot etc. I feature sometimes in the soap opera, Treasures.
Apart from acting
I do a lot of businesses that can fetch me money. I am an interior decorator and I even used to do that before I started acting, I still do it by the side. As for my salon, I had to close it down because I was not always around, but now, I intend opening one again.
Happiest moments
I am always happy but my happiest moments are the times I spend with my daughter, she gives me joy. And when I am with my man, he gives me joy because I am where I am today because of his words of encouragement and follow up and support.
He is not the father of my child and I don't know where that one is right now.
Being a single mother
It has not been easy but I have been coping, especially with the help of my man. He is playing the role of father, uncle and everything. He has been supporting me and I always put my daughters' happiness first.
Right now, she has done three advert jobs and if that is what will make her happy, I stand by her.
Your tattoos
I am one lady that loves crazy things, though I am not a crazy person. I have the tattoos in different parts of my body but I won't mention where and where. As for having his name tattooed on my body, I can't do that. What if he leaves me tomorrow, what will happen to the name? Instead of that I will put my daughters name there or my name.
Heartbreak.
I have had my own share of that and it is not once, twice or thrice. In short, I hate men because they are wicked. Yes, my current guy is a man but it is as if he is of different specie. It is not as if he doesn't have his own moments but he is just someone God sent to come and wipe away my tears after all the pain I had gone through.
Like the father of my daughter, he was not just the man for me at all and now, I realize that for everything that happens in life there is always a reason. I now know that he was not meant for me.
Ever since his leaving I have seen the difference between being with him and not being with him. I don't want to talk about him because he is in my past, Amaka's past.
In the next five years
I expect to be bigger and larger than I am now. In the next five years, I want to be in my dream place and I am seriously working towards that.
As a big actress
I don't believe in being slim. I like my built as I am. My built trips people and my man likes me as I am. I am his speck. Men nowadays like babes they can hold.
Most sexy part of you
My boobs are the sexiest part of my body and I have no qualms about saying and showing it. I can wear anything, both skimpy or not because I love my body.
Introduction
I am Amaka Okere. I am from Delta state. I am currently doing a part time programme at the University of Lagos in the department of Business Administration. I am in my final year.
I had earlier attended University of Maidugari but couldn't complete my studies there because I got pregnant, but after I had my baby, I decided to go back to school here in Lagos.
I am the third child and second daughter in a family of six children. My parents are both alive and live in Lagos.
Going back to school after giving birth
It was not easy but I had to do it because everybody in my family is a graduate and I didn't want to be left out, so that when they are talking in my house, I will not be treated as the odd one because I'm not a graduate.
Secondly, I have to complete my education for my own sake and my daughter's sake. I have to move on with my life rather than wallow in self pity.
My mother was very supportive, helping me with the child while I started registering; my siblings supported me all the way.
Last word
To my fans, I say thank you very much for all the support. I love you all and I encourage you to keep on doing what is best and right for us.
They should keep watching because last year was poor for me but this year they will see a better me, by Gods grace.