MURDER ALLEGATION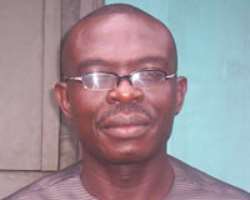 A man, Cajethan Ohiri, who petitioned the police, alleging that the traditional ruler of his community, Eze Ben Onyeanwu and some citizens of the town sent hired killers after him, has expressed fears over the transfer of the case from the Federal Special Anti- Robbery Squad (FSARS), Headquarters Annex, Adeniji Adele, Lagos, to the office of one Deputy Inspector-General of Police, Abuja.
The architect, had alleged in the petition that Onyeanwu, Chief Jude Ojintar, Darius, Kelechi, Uchenna, Uzoma, Basil, Obinna, Peter, Damian, Cletus, Adolphus, John, Joseph, Kevin and Emmanuel planned to assassinate him on February 20, 2011, at Nsokpo Road, Ogbaku, Imo State.
The petition addressed to the Inspector-General of Police was dated August 10, 2011 and titled: 'Conspiracy of Eze Ben Onyeanwu and his cohorts to frustrate the cause of justice, by thwarting investigation by FSARS, Lagos, over the allegation of attempted murder/assassination of Sir Cajetan Ohiri and Chief Engr. Iyke Nnadi.'
Written through his lawyers, Odili S. Eremba & Co, the petition said further: 'Our fears appear to have been confirmed, as we learnt from recent developments, that the matter has been transferred to the Force Headquarters, Abuja through a signal from the office of the DIG, the same office that conveyed approval of our petitions under reference in this regard. It is pertinent to point out that the so-called transfer is unnecessary and portends great danger to our clients, based on several reasons.'
But Eze Onyeanwu debunked the allegation, saying he could not have planned such evil. He said he was innocent. The royal father told Daily Sun on phone that he was too big to plot killing someone. The traditional ruler disclosed that he was bitter that one of his subjects is accusing him of plotting to kill him.
His words: 'You said he (Ohiri) alleged that we held a meeting in my palace, where we discussed how to deal with him. It is ridiculous! They should count me out, because it is rather, ridiculous. I never heard of such thing let alone, attending such a meeting, where they discussed it. I advise you to meet other members of our community, they will advise you more.'
He accused Ohiri of cooking up assassination story because, he refused to give him a chieftaincy title.
Another reason he said, was his refusal to support him (Ohiri) over a land matter. But Ohiri quickly denied the allegation, saying he recorded the voice of those who attended the meeting, where they allegedly hatched the plot. He told Daily Sun he also handed over the recorder to operatives from FSARS, as part of the evidence against the suspects.
According to him, operatives from FSARS were almost concluding their investigation and about to charge the matter to court, when Abuja suddenly ordered for the case file. He disclosed that the Commissioner of Police in-charge of FSARS had already told those involved in the matter to come on August 23, 2011.