AIKHOMU, EX-CGS, DIES AT 72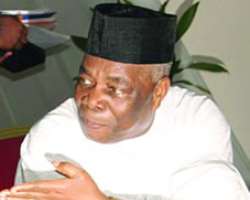 Former Chief of General Staff (CGS) and military Vice-President under the regime of General Ibrahim Babangida, Admiral Augustus Aikhomu, is dead, aged 72. A personal aide to the ex-CGS, Mr. Clement Iriata, a lawyer, confirmed Aikhomu's death, yesterday. He was said to have passed on at a Lagos hospital after a prolonged illness.
In a twist of fate, Admiral Aikhomu died on the day General Babangida turned 70. He was the Chief of Naval Staff between 1984 and 1986.
The Babangida regime 'stepped aside' in the heat of the annulment of the June 12, 1993 presidential election. Since then, the late Aikhomu has been in politics and a stalwart of the ruling Peoples Democratic Party (PDP).
Eminent dignitaries, including General Babangida, former and serving governors and his aides paid tributes to the fallen Navy Admiral, who was Chief of Naval Staff (CNS) in 1984. He hailed from Irrua-Ishan Esan in Edo State. In the statement issued by presidential aide, Dr. Rueben Abati, President Goodluck Jonathan said he received with shock and sadness, the news of Aikhomu's death
Jonathan described Aikhomu, who was CGS from 1986 -1993, as a patriot who dedicated his life to the service of Nigeria in the Navy, and contributed immensely to the political development of Nigeria as second-in-command to Babangida.
'Admiral Aikhomu's life was defined by the values of hard work and commitment; he was a conscientious and dutiful officer who was in all respects admirably equipped for his roles in the military and in the larger society', the President added.
Even in retirement, Aikhomu continued to offer his services to Nigeria.
He said the death marks the sad loss of an experienced, committed and dedicated Nigerian, at a time when the country still needs his wisdom and knowledge and contributions as a statesman.
Jonathan expressed his personal condolence and that of the Federal Government to the family, and prayed that God would grant them  comfort and consolation to bear this irreparable loss.
Reacting to the death of his second-in-command, Babangida said, 'I have lost a trusted, loyal and extremely reliable friend and brother in Augustus Aikhomu. I enjoyed all my years of very warm and close relationship with him.'He comes across as a professional colleague, who understood where we were headed as government and went out of his way to ensure we achieved our set goals and objectives.
I am utterly dumbfounded especially coming on a day I was celebrating my 70th birthday. I will miss him. Nigeria will miss him. Africa will miss him. He was a gentle officer, who worked through thick and thin during our trying period as a country to create a roadmap for the nation.
'A patriot of unflinching loyalty and a confidant of immeasurable depth, may Allah, in His grace grant him eternal rest. May Allah grant the family the fortitude to bear with this painful and irreplaceable loss,' he said.
Edo State Governor, Adams Oshiomhole also expressed deep shock and sadness at the report of Aikhomu's death.
Reacting through his Chief Press Secretary, Mr. Peter Okhiria, Gov. Oshiomhole regretted that Nigeria has lost an important player in her political development in the last two decades. He recalled his sterling professional career as a Naval officer, which was marked by important command appointments.
According to Oshiomhole, 'although he served under military administration, he managed to cut the image of a father-figure and a moderate influence.'
'In later years as a politician, he was vibrant and demonstrated a competitive spirit.' The governor noted that 'Admiral Aikhomu was one of those leading personalities in Edo politics, who offered goodwill and support, despite political differences with my government'.
He commiserated with the widow, Rebecca, whom he described as a staunchly supportive spouse, adding that 'our thoughts and prayers are with the Aikhomu family at trying moment and pray God to grant him eternal rest.'
Aikhomu's predecessor in office, Commodore Ebitu Ukiwe(rtd), described him as a good and gallant officer, who kept in touch in spite of circumstances that tended to thaw their relationship.
Ukiwe took a deep breath and exclaimed twice. 'I'm shocked.' I'm shocked.' He said, 'I saw him earlier this year in London. I went to his house. He was in hospital and was later discharged. I went with my wife and we had a long chat,' he said.
The retired Navy Commodore, expressed regrets over circumstances surrounding delay in communications over his death by the Navy High Command.
'I've tried to reach the Chief of Naval Staff but his line could not get through. So, I am yet to confirm his death officially and therefore, cannot make comments now.
I am very sad. He was a good colleague, a good officer. He kept in touch. May his soul rest in peace.'
On his part, a former military governor of Rivers State, General Zamani Lekwot (rtd) described him as an 'experienced senior citizen and disciplined officer, whose contributions to the socio-political development of the nation was immense.
He screamed as the news was broken to him. 'Waoh! What a loss! I never knew he was indisposed. This is very sad. What do we do? When is the funeral?
'This is a great loss. He was an experienced senior citizen. A very disciplined officer, who used the opportunity he had to serve the country meritoriously. We were colleagues in the armed forces and in government.
'He commanded great respect and was loved by many. May his soul rest in peace and may God give us the fortitude to bear the loss.'
Former Minister of Petroleum Resources, Prof. Tam David-West also described him as a 'pleasant man and fantastic officer.
'He was very close to me. He had a fantastic wife, Rebecca; it is a great loss to Nigeria. He was a pleasant man. However, Babangida used him to oust Commodore Ukiwe as vice-president because he found him (Aikhomu) more pliable. From that time, Aikhomu as a political figure degenerated. His wife, Rebecca launched the MT Kuma vessel which we bought and which contributed to the development of the Nigerian economy. He was very, very close to me, and I will never forget him.'
Also, former Deputy Senate President, Albert Legogie, described the death of former military vice president as devastating. He said: 'I am very devastated by the sad news of our most respected Admiral. He was a patriotic Nigerian.
'Three weeks ago, I went to see him in Lagos and as usual, apart of his ill-health, he was as passionate as ever before about the future and unity of this country. 'It is sad that at this critical time in our history, when all experienced hands are needed on deck to move the country forward, he has just passed away. Nigeria will miss him, Edo state will miss him and the whole world will miss him. May his soul rest in peace,' Legogie prayed.
Meanwhile, efforts to reach Aikhomu's family members at his residence on Number 26, Anambra Crescent, off Nile Street, Maitama, Abuja, proved abortive.His younger brother, Joe, a medical doctor and a Rear Admiral in the Nigerian Navy, who currently occupies the compound, was said to have travelled out of the country.
However, a middle-aged man who simply identified himself as Osaro, told Daily Sun that the Irrua, Edo State-born Admiral died yesterday at 5pm in Lagos.
Biography
•Born on October 20, 1939
•Educated at Irrua Government School, Yaba Technical College, Higher College, Yaba, now Yaba College of Technology
•1954-1958: Royal Britannia Naval College, England, Long gunnery Specialist Course, India and the National Institute of Policy and Strategic Studies (NIPSS) 1982
•Appointed Chief of Naval Staff 1984-1986
•Named Chief of General Staff/Member, Armed Forces Ruling Council (AFRC) in 1986
•Chairman, National Boundary Commission
•Chairman, Regency Alliance Insurance Plc