FASHANU ASKS MIKEL NOT TO STOP PLAYING FOR EAGLES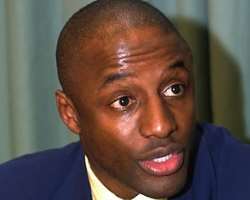 Mr. John Fashanu
Nigeria's football ambassador Mr. John Fashanu on Tuesday joined the call for the release of Mikel Obi's father and advised the Chelsea midfielder not to heed calls to stop playing for Nigeria.
He described the disappearance of Mikel's father as horrifying.
The former Wimbledon of England striker, who spoke to our correspondent on the telephone in Abuja, said that every Nigerian loved Mikel, and promised to get in touch with him.
The former striker said that those who master-minded the disappearance of Mikel's father constituted a few bad eggs in the society and should not be allowed to destroy our football or negatively influence players attitude to national service.
He said, 'Everybody love Mikel; it is a horrible thing. I pray I never go through that experience. It is not the whole of Nigeria involved, but a few bad people.'
Fashanu, therefore, urged Mikel to ignore pressure to shun playing for Super Eagles.
According to him, the Chelsea player had mature and 'thinks internationally' to listen to such unpatriotic calls.
Mikel had in an emotion-laden voice on Monday, appealed to Nigeria to help him in getting his father released from captivity as he had dutifully served the nation.