SPICE TV HOSTS CELEBRITIES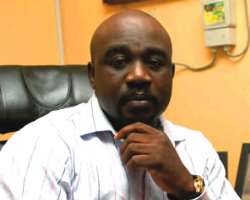 Tajudeen Adepetu
Several celebrities in the fashion and music industry assembled at Four Points by Sheraton when Spice TV recently held its Spice Haute Party.
The DJ that stirred the night into life, with music from different climes and seasons, entertained the guests at the poolside of the popular arena.
Spice TV, a continental beauty, fashion and lifestyle beauty magazine programme, shown on digital TV platforms, is from the stable of Consolidated Media Associates, content provider of Soundcity, Televista and Village Square TV. Behind the outfits is popular entertainment driver, Tajudeen Adepetu.
While the organisers seized the opportunity to roll out Spice's programmes, extracts from past runway fashion shows, like Arise Magazine Fashion Show and Music Meets Runway, were also showed.