Shocking! The story of a 9ice man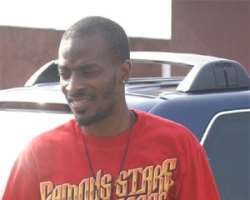 9ice... I began to fend for myself as a child.
On the streets he could pass without notice. And unlike his contemporaries who indulge in wearing expensive apparels, ..... a. k. a. 9ice is not given to show off.
Instead he prefers to keep it simple and real. "I grew up on the streets, my music is for people on the streets and on the streets I still live. So why should I shed my colour just because I want to be who I am not".
Nice words you'd be tempted to say, but that's 9ice, unfiltered and uncompromising as ever.
In this no hold bare interview with our Saturday Vanguard crew 9ice tells his story. A story that probably inspired one of the tracks in his hit album Street Credibility. Excerpts;
How long did it take you to produce the hit track Gongo Aso?
It took us about two months to produce Gongo Aso. Before we finished with Gongo Aso, we had already done a couple of other songs. It wasn't also the song we pencilled down as the hit track, but it turned out to be the hit.
After the explosive reaction it got, we had to rush back to the studio to complete the album. The reception given to Gongo Aso was a surprise and it shocked us.
And how long did you spend in the background before you shot into limelight and became a hit with your fans?
I'll say ten years. All these while I was in the background doing some collabos and learning how to produce, engineer and so on.
How long major collabos did you do?
I've done about 30 or more with the likes of Ruggedman, Lord of Ajasa, J Martins and so many others that I may not recall their names now.
Tell us about your collabos with Lord of Ajasa and J. Martins..
The song I did with Ajasa was his likewise that of J. Martins. Right now, we are working on a new album which is mine.
You had an album before now which people didn't get to hear about what happened?
Yes. The album was titled Certificate and part of the reasons why it didn't sell was promotional and problem associated with the industry.
If you are new in the industry, you have to pay your dues to the industry and this includes the problem of promoting an album. And sometimes you don't even get heard at all.
When you were recording your second album, did you expect it would be as successful as it is today?
What you propose as man sometime don't work out because God may have other plans for you. I didn't expect that the album would end up the way it did, honest. For me, it's like a journey that should have taken ten years to accomplish and one ends up using less than one year to achieve that. The response to my second album was great.
Today, how do the people you'd worked with and helped on their albums reacting to you now that you are a success story?
I can't read their minds to know what their feelings are like towards me but definitely some will be happy for me while others will not.
Many people will react in different ways not because they are bad but because they are human and I respect them for their opinion. I am somebody that has passed through different stages in life so I understand how and why people feel the way they do.
Is growing beards the new look of 9ice?
Yes, I'm just trying to look different, that's all.
You said you passed through different stages in life, could you explain some of these stages to us?
From the stage of coming from a polygamous home of five wives and nine children and the stage of getting to know my mum when I was 19 and my dad at 21 were tough times for me. Right from a very tender age, I got used to doing things myself without consulting my parents. I began to fend for myself as a child.
It was from this stage that I moved out to mix up with other children who live with their parents because I wanted to have a feel of what it looked like to live one's parents. .
Can you explain more on what you said about knowing your mum at 19 and your dad at 21?
I'm the only child my mother had for my father but I grew up with my step mum.
And how come you didn't get to know your parents until your teenage age?
I was living with my step-mum and she wasn't living with my dad either. I grew up knowing her as my mum and dad. She introduce me to my mum when I was 19 but before then I had know my mum as my sister. She used to come around to play with me, take me to places, buy things for me and so on.
How did you feel the moment you were told that this woman you've known as your sister is your mum?
The feeling I had for her as a sister changed but I still hold my step-mum with high esteem because she's all that I've got.
What caused the break up between your parents?
My mum and my step mum became too close and my dad became uncomfortable. I think that's where the problem started.
What about the day you were introduced to your father, how did you feel?
The truth is that my father and mother were people that I'd known all my life but in a different way. But I was made to understand they are my real parents later in my life. In the case of my father we attended and prayed in the same mosque for several years. And after such prayers, we'll greet like fellow worshipers and go our different ways.
And what's the situation between you all now?
Everybody is happy now because we now live as one big happy family.
If you have the opportunity, will you marry two wives?
No way, I can't marry two wives. One wife is already enough trouble.
Talking about your experience it amazes one how you were able to overcome all that...
Yes, life is not about what we have but what we can do with the little we have and become better people. And it doesn't matter what people say to you in life, someone may say you can never make it, you just have to prove to that person that you can make it. Success is achievable.
How did they feel when they got to know that the 9ice they know as a star is their own son?
It took them like three years to know because I left home and was staying with someone I call my brother (in Cabbassa). I had been on the background without showing on TV so they go to know later and they were excited.
Were you instrumental to my family's reunion?
I'll say God made it possible
What about your step mum?
She's now relocated to Ibadan. I go there often to see her.
What was growing up?
As a child I had to wake up 5 am to wash the plates because I was the last in the family. Then we move on to sell chewing stick (pako) between 6.30 and 7.30am. After that we'd return to have our bath and get dressed for school. And when we return from school later in the day, we go back to the streets to sell pepper.
All these things we did with great pleasure (me and my sisters). After selling these things my step-mum would give a certain percentage of the profit to our personal use. And this money we'd keep in our piggy bank and when its's festive period, we break the safe and buy things from the money.
Your step-mum must have been a great mum?
Yes, she is an award winning mother.
You said she spoke to you in proverbs, as a child, how were you able to cope with her words?
In the past we felt like she was stabbing us in the back with a knife instead of words because we didn't understand what she meant and it had less effect on us.
But as we grew older, we began to feel that the things we had done wrong were too small for the words she was using. And she'll insist that she wants us to understand that we had really done something wrong.
At what point in life did you make up your mind to become a musician?
It took a while because I was struggling between going to school to study law at the Lagos State University and wanting to become a musician. If I had known that music was my calling, I would have started it earlier than I did. At the beginning hip-hop wasn't the in-thing then, so it was like leaving a career for nothing. Even the industry wasn't as big as it is today.
Who's music inspired you?
Sunny Ade, Ayinla because of my environment and that was the kind of music my step-mum listened to. So directly or indirectly they influenced me.
So why didn't you take after their music genre?
That generation of music is of yesteryears. So what I did was to see how I could inoculate today's music into what they did then..
What does it take for 9ice to write a song?
It doesn't take much time from me. Basically, what I do is convert some of the poems I have written, put some of what is happening today in our society into it and they become songs.
Some of your songs are loaded with idioms that even some Yorubas can't even understand. Did you ever feel that people will accept your kind of music when you started off?
I never thought about that but even if it wasn't accepted I didn't have anything to loose. People on the street don't have anything to loose that's why they behave the way they do. They are not afraid of reporting to anybody so they don't think about what they have to do.
How do you feel doing just two albums and getting right to the top?
I am grateful to God. But it's more of what people feel than what I feel because I don't feel any different. I still go to places I want to go. Basically, I sing for those people on the street and I think the best award I can ever get is when they sing my songs passionately.
That is why I must do very well to impress them because if I don't, most of them will leave me for another musician. Doing so well for them means collecting different awards and its happening. And if that is not happen, I'm bound to loose them. So I dedicate my awards to them.
So how are you able to relate with those on the streets?
I relate well with them because I still live on the street. If you can follow me now you'll see I'm come from the streets in Akoka. Sometimes some of them buy food for me and I buy for them.
Many artiste don't marry as early as you did, were you really ready for it?
Before fame came my way, I never believed I should own the world before I can settle down. Most people who don't get married on time and have good jobs and are well paid refuse to get married probably their older generation had told them that it's difficult to get married.
And so they are afraid of what they don't know and see. The story is equally not the same for everybody. Some people are poor but when they get married they become rich. I don't follow anybody, I do what I want to do without thinking of the future.
Some people complain about 9ice dressing...
I can't change. I have all the designer dresses and shoes but I can't wear them because they don't fit into my environment. Imagine me wearing suit to my area (Akoka)?. I just have to wear what they wear to fit into the environment. Mine, maybe more expensive than theirs, but it has to be the same jeans and T- shirts. We still have other big boys from Akoka who can't come there now, probably because they've changed in their mode of dressing so they can't relate with the environment anymore.
But you drive a big car?
Yes I do. Gangsters in Akoka drive bigger cars than myself but they don't leave the streets.
Don't you think you could put on some jewelries (necklace) to spice up the T-shirts?
It's not that I can't afford it but I'm not used to it. Sometimes when I try to wear them, they scratch my neck.
What's marriage like?
It's challenging especially for someone like me who's used to going out and coming back when I like. Now as a married man, I have to give report to someone and I know that if I don't do that there'll be problem (laughing).
I have to call my wife even when I don't want to. I just have to call to say I miss you. Marriage is a responsibility that one has to live up to everyday of life.
What was the experience like when she was pregnant?
No bi same thin o. There are some days when she'll have to wake me in the middle of the night to say she's not feeling fine but mere looking at her she'd look okay. And I'd know she's not faking it, so I'll rub her back, pet her to make sure she is fine.
And from that stage to the stage of delivery we did all night.
In fact, today, we have a roaster where we take turns in taking care of the baby at night. And for us, it's a pleasure doing all that, And for me I derive great joy in doing all that because I'm letting my baby have all the attention I didn't get.
You were away from your wife when she gave birth, was it deliberate?
No. I was there in the labour room with her but the baby wasn't just coming forth for about two days.
And there was nothing I could do about it. So I had to come back for my engagements when the baby was born.
How did you meet Cabbassa?
I met him in 1998, then I was in a group called Abinibi, Before that time I was in the Mysterious Boys group in the NOIC (Nigerian Opportunity Industrialisation Centre) where he was working then. My group did two songs which he worked on. And it was after those song that I began to look for his contact again.
I got to meet him in his own house where he was running his own studio and he recorded the song for us.
Was the song released?
Yes but not on the radio stations. It was released on the streets because we went to different carnival to perform.
How did you come about Gongo Aso?
The beat in Gongo Aso is something I had done for somebody before. After about six months I listened to the beat again and wrote Gongo Aso on the same beat. Then I went to Cabbasa to voice Gongo Aso on that beat, but he was to later replace that beat and recorded another. So that's how we came about the new Gongo Aso.
The full meaning of that song is tradition in transition because everybody embraced it.
Let's talk about your new album...
The new album is coming out very soon and we want to make sure that we improve on the last album. In terms of message, mixing, mastering and content. If everything works out as planned by God's grace we may feature Little Wayne, Akon, Wyclef and Asa in that album.
How many tracks are we expecting?
About 10 tracks because Nigeria don't like too many tracks but content.
Written by Ogbonna Amadi, Lolade Sowoolu and Bridget Amaraegbu