Google To Buy Motorola Mobility For $12.5 Billion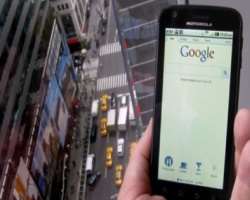 Setting its sights on rival Apple Inc, Google Inc announced its biggest deal ever, a $12.5 billion cash acquisition of mobile phone maker Motorola Mobility Holdings Inc.
Google's biggest foray into hardware comes weeks after a failed attempt to buy patents from bankrupt Nortel, and gives it an intellectual property library in wireless telephony to wage war on Apple and Microsoft Corp.
But in buying Motorola, the Internet giant risks alienating the hardware partners that license its free Android software. Google CEO Larry Page sought to calm the jitters by stressing on Monday that Android will remain open to all.
"The danger is that other handset makers feel disenfranchised," said Nomura Securities global technology specialist Richard Windsor.
"Motorola is the weaker player. This could actually collapse the entire community."
Shares of Motorola Mobility jumped 59 percent, while Nokia's stock gained more than 10 percent on speculation the Finnish mobile company is now an acquisition target.
The deal -- which took Wall Street by surprise -- appears to mark a shift in strategy for a company that had focused on shoring up its Internet search and advertising empire with forays into video and social networking.
After being shut out of Nortel deal, Google Chief Legal Officer David Drummond wrote a blog post accusing Microsoft, Apple, Oracle Corp of colluding to buy up patents and curtail growth of its Android mobile operating system.
Page echoed Drummond's blog post on a conference call, saying Motorola has a strong patent portfolio that will protect Android from "anti-competitive threats."
SMARTPHONE MARKET
While Apple's iPhone is one the most talked about phones in history, Android has managed to surpass it as the market leader by winning the support of numerous phone makers including Motorola's bigger rival Samsung Electronics Co.
Android controlled about 43.4 percent of the smartphone market at the end of the second quarter, ahead of Nokia with 22 percent, according to Gartner data. Apple ranked third with 18 percent, the data showed.
As part of the deal, Google also gets Motorola's set-top box businesses, giving its nascent TV operation a much-needed boost by providing it with a more direct route into the home.
The deal values Motorola Mobility at $40 per share in cash, a 63 percent premium to its Friday closing price on the New York Stock Exchange. The deal features a rich reverse breakup fee of $2.5 billion, according to a source close to the situation.
"It's a deal that will take time to pay off, but they have a lot of cash and they want to chase after profit," BGC Partners analyst Colin Gillis said, referring to the fact that Android has not been profitable thus far.
Given his status as Motorola's largest shareholder, the deal represents a big win for activist investor Carl Icahn.
He has urged Motorola to consider splitting off its patent portfolio to cash in on surging interest in wireless technology. As of July, Icahn held an 11.36 percent stake in the company.
In a statement, Icahn said the deal is "a great outcome for all shareholders of Motorola Mobility."
Google, which plans to run Motorola Mobility as a separate business, said the deal will close by the end of 2011 or early in 2012, and requires regulatory approvals in the United States, European Union and other areas, as well as the blessing of Motorola Mobility's shareholders.
Lazard advised Google on the deal, while Motorola used Centerview Partners and Frank Quattrone's Qatalyst Partners, sources told Reuters.
REUTERS.