HOW TO MAKE LGAS MORE FUNCTIONAL ON EDUCATION -WIKE (MINISTER OF STATE FOR EDUCATION)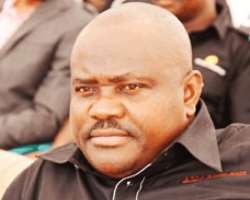 .Wike
Barrister Ezenwo Nyesom Wike is the Minister of State for Education. Until his appointment, he was the Chief of Staff to Governor Rotimi Amaechi of Rivers State and was once national president, Association of Local Governments of Nigeria (ALGON) while he served as elected chairman of Obio/Akpor, one of the largest and cosmopolitan local government areas in Rivers State. In this interview, Wike bares his mind on the task ahead of his ministry in the area of resuscitating the ailing educational sector. Excerpts:
You served in the local government and at the state level in Rivers, what differences have you noticed so far, working as minister in the federal executive council?
First of all, there is a common similarity. I have served as chairman and as chief of staff in Rivers State and now, I am serving as a minister. Of course, all are public service.
But there is a big difference between being a minister and my previous offices because as chairman, my concern, basically, then was about transforming my local government area, which was a big task because it was an overlap with Port Harcourt city, which made me to be involved in road constructions that ordinarily are seen as the task of states and Federal Government. But by the grace of God, we did very well in Obio/Akpor; people can testify to that.
As chief of staff, my job was to manage manpower in the Government House and assist in steering the affairs of the governor. So, my concern was mostly about happenings in the Government House, policies of the state government and its programmes but here as a state minister of education, my focus is large. I am concerned about the educational sector as it affects the 36 states of the federation and the FCT. I should be worried about the standard of education across the 774 local government areas and the area councils in the FCT. This is a big task but by the grace of God, I will do my best in trying to achieve the agenda of our dear president which is to transform education in Nigeria. My specific task concerns basic education, that is the UBE and unity colleges.
On assumption of office, what did you meet on ground?
I'm still acquainting myself with activities of the ministry. I have been receiving briefs, assessing situations in schools and studying reports but what I know for sure is that the president is laying a good foundation by resorting to assessment, planning, strategies and implementation instead of jumping the gun. If you recall, in October, 2010, I remember watching a live transmission where Mr. President personally chaired a presidential stakeholders' summit on education, which came up with some resolutions that led to the formation of a Presidential Task Force on Education. It was inaugurated by the president and had about 30 seasoned academics under the leadership of Professor Pai Obanya and their mandate was specific:
To propose the best arrangement for the management, regulation and coordination of education at all levels; examine all laws militating against the delivery of qualitative education and propose necessary changes and amendments; propose a sustainable funding arrangement and transparent management of resources for education; examine the ethical issues in education and steps necessary to restore ethics and values in education at all levels, develop programmes and projects that will attract good brains to the teaching profession and, at the same time, retaining and motivating existing teachers; propose ways necessary for the improvement of the teaching and learning environment to create greater access to education and enhance intellectual achievement across the board and to propose any other relevant step that will reposition the education sector in Nigeria.
The task was huge but the committee has submitted its report and the Federal Government will critically study and implement what it desires the best and like my sister, the Honourable Minister of Education, Prof. Ruqayyatu Ahmed Rufa'I, said about that report, our problem in this country has always been implementation of strategies developed in reports but I can assure Nigerians that Mr. President is determined to ensure implementation of whatever the government adopts in the report.
I think that is why he is currently running a target-based Federal Executive Council where there will be assessment of what any of us has been able to achieve over a period and I am sure in our case in the Federal Ministry of Education, implementation of the action plan derived from that report will be the yardstick to assess us since the education reform is tied to an action plan and we are very conscious of that. We have a president, who is very sincere in achieving what he has promised and the minister of education is very experienced and committed to achieving the president's agenda and, of course, I am there along with other stakeholders in the ministry and our affiliates; we will remain patriotic and committed to transforming the education sector in Nigeria.
What are the key submissions made by the task force?
So many recommendations were made. I have learnt from our past experience on the electoral reform that sometimes, it is not too healthy when recommendations are quickly divulged because there are cases where the government may want to review some recommendations either to conform with constitutional provisions or to meet realities of financing, etc.
I remember the controversy that followed the recommendation of the Justice Uwais panel that the National Judicial Council should recommend the chairman of INEC, to take the powers away from the president; I remember some aides to late president Yar'Adua, arguing that by adopting that recommendation, the judiciary would be usurping the function of the executive which has the constitutional responsibility of appointing INEC chairman. So, there were arguments here and there, which would have been avoided if the committee hadn't disclosed that but by and large, the Presidential Task Force on Education made beautiful recommendations regarding the restructuring of the 6-3-3-4 system; they also called for accelerated action on the National Teacher Education Policy and the speedy implementation of the new teachers salary amongst others but I prefer to keep it at that so that whatever I say is not misconstrued to be policies.
From what you have seen so far, how would you describe the state of our education?
The situation was very bad. Even the president declared so, which was why, in the first place, he organised the presidential stakeholders' summit, leading to the Presidential Task Force on Education but things are continually improving and what is important is the president's openness in admitting that there were problems instead of shying away from them because of image protection and researches have been and will continue to be made to get statistics, regarding our education levels so that we know which part of the country needs what measures.
What kind of statistics are you talking about?
For instance, I am aware that a survey on our education data was conducted by the Federal Ministry of Education in collaboration with the National Population Commission (NPC) and some findings were made public by Chief Samu'ila Makama, Chairman of the NPC, and the findings showed the level of education across states in the six geo-political zones and there were statistics on illiteracy levels, showing the presumed figures of children, who attend schools or not, the statistics will help in planning so we know which area needs what measures to be taken.
What were the specifics on the findings?
I don't want to be too specific in identifying states because it is of no use now. The findings showed that two geo-political zones had the lowest literacy rate in Nigeria where 72 per cent of children don't attend basic schools but what is important is for us as a ministry to take measures in collaboration with respective states in the zones and other parts of the country so as to change the trend by enhancing education through increasing access to schools, mass mobilisation, public enlightenment, making schools more attractive and affordable and making them better learning environments.
You were president of ALGON. Local government areas are responsible for primary education; how do you think primary education, which is the key step in developing children, can be improved?
You see, the local governments need to become independent, they should have autonomy in terms of funding and they should equally have improved funding.
The truth is that there are some local government areas that have so many primary schools as many as over 100 to cater for with their meagre resources and then provide primary healthcare and infrastructure but at the same time, the meagre resources are sometimes not under the control of the councils because they are not autonomous. So, no matter how good the agenda of any chairman is, unless he or she has a good governor, such agenda is bound to suffer when funds are interfered with, this is the long and short of it but I am sure the governors want better education in their states.