Yakasai Disowns 1999 Prison Notes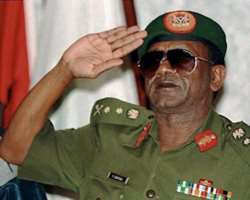 DECEASED FORMER NIGERIAN DESPOT, GENERAL SANI ABACHA.

KANO, August 14, (THEWILL) - The Personal physician to the late Head of State, General Sani Abacha, retired Colonel Ibrahim Yakasai has denied authorship of the '1999 Prison Notes' that indicted top military brass during the Abacha regime.
Yakasai, who is the former chief Medical officer at the Aso Rock villa during the regime of the brutal dictator, said that the contentious 'prison notes' were authored by someone he referred to as "an unknown enemy wishing to settle scores with him and all the personalities mentioned in the script."
Yakasai's denial is coming on the heels of the controversies generated by a report by a leading Nigerian news magazine, published in 1999, and recently posted online by a New York based online medium.
Stressing the need to put the records straight, Yakasai told reporters in Kano; "I have not written any prison notes, and have not granted interview or licensed anybody to write anything about my experience while in detention."
While recounting his ordeal in prison, the former Military Director said, "In 1999, I was incarcerated in Owerri prison, and that was the time the police came in large numbers and showed me a magazine that purportedly published the prison notes.
"I told them I was just seeing it for the first time, and I don't know anything about it, they spent two weeks questioning me and I repeatedly told them I don't know anything about it," the former soldier said.
The former member of Abacha's kitchen cabinet disclosed that he was handcuffed and chained to the ground at the time of the publication, adding that prison authorities as a matter of policy only allowed his wife and a brother to visit him once in a month.
Colonel Yakasai who is currently a Consultant Gynecologist at the Aminu Kano Teaching Hospital, Kano, explained that the police authority had since exonerated him from the authorship of the controversial 'prison notes' and the message contained therein.
He however said he has no intention of seeking redress in court over the 'offensive and embarrassing publication' stressing that his tribulation was ordained by God.
"I was incarcerated for three and half years, and was released in 2003 by General Obasanjo administration, and they told me I had no case to answer.

"My incarceration for whatever reasons is from God, God tested my faith, and when the trial was over I was set free, and I will not make case with anyone on the basis of that publications," he added.
The former military Doctor who refused to comment on the ongoing trial of Major Hamza Al Mustapha explained that the 'trial and tribulation is destined by God', pointing out that "one will regain his freedom the moment God says it's over."