Cross River House Calls For Solution To Boundary Clashes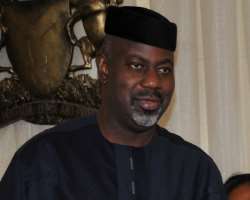 CROSS RIVER STATE GOVERNOR, SENATOR LIYEL IMOKE.
CALABAR, August 11, (THEWILL) - In view of the incessant inter and intra boundary clashes, the Cross River State House of Assembly has called on the Surveyor-General of the State and the Border Communities Development Commission to as a matter of urgency work out a strategic plan for a permanent resolution to these disasters.
Hon. Ogana Lukpata, member representing Yala II Constituency said in a motion that communities living along the boundaries are being frequently attacked by neighbours, a situation he said has led to loss of lives and property.
He said the lack of proper documentation, coupled with the non-cooperative attitude of some agencies was compounding the problem. Hon. Lukpata sought urgent steps towards retracing boundaries in the State adding that Government should do everything possible to protect its citizens.
Members who contributed to the motion said the boundary problem was enormous and required very drastic steps to be taken to save the lives of the Cross Riverians and stated that no price was too small or big to pay for this.
They said the issue should be confronted immediately to forestall further destruction of lives and property.
Meanwhile, a special committee of nine has constituted to study and further make recommendations on the inter and intra boundary disputes with Hon. John Gaul Lebo as Chairman.
In another development, members representing Ikom I State Constituency, Rt. Hon. Agbiji Mbeh Agbiji in a motion on adjournment called on State and Local Governments to provide succor to the flood disaster victims in Obanliku.
Hon. Agbiji said the situation required urgent intervention as people have been rendered homeless and needed food.