SCANDALS MAKE SHOWBIZ TICK-SHAN GEORGE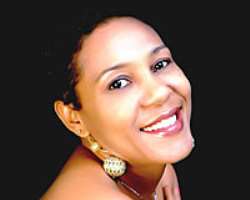 NOLLYWOOD actress, Shan George, has revealed that scandals are the hallmark of showbiz.
Speaking on the scandals that have trailed her career as a movie star, she said, "thank you all Amebos there, keep spreading the rumours."
The actress, who recently got married, sees scandals within the industry as an extension of movies, adding that overzealous reporters write bad stories to sell their papers.
"If the papers carry the headline, 'Shan George marries' people won't buy it, but if they see 'Shan George snatches someone's husband,' they run to the news stand," she said.
However, the mother of two, looks at all these as part of the razzmatazz in the industry and there are no hard feelings because "they are the factors that make up showbiz."
Shan George, who also sings, disclosed that she doesn't believe in role models but looks at different artistes and tries to improve on herself.