YES,I AM DATING,BUT THERE WON'T BE ANY WEDDING BELLS.GENEVIEVE NNAJI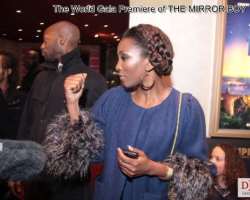 She's one of the very best in Nollywood and probably beyond, that is what Genevieve Nnaji is. In this brief chat with TOPE OLUKOLE, she speaks on some issues relating to her career and the entertainment industry. Excerpts:
What inspires and motivates you in life?
Fear of failure. I am driven by fear of not achieving what I set out to achieve and not meeting my standards. I can be pretty hard on myself. I'm very competitive, so failure cannot be an option.
What is your ultimate goal?
I want to challenge myself, as an actress, some more. I don't think I have reached my potentials. There is still a hunger in me. I am still not completely satisfied. I won't stop until I get an Oscar.
If you could do it all again what would you do?
If I had it my way, I would love to be a model, but I don't have the height. If I could start my career again, I would definitely go into the fashion world because I have been designing since primary school. But you can't go back into time and the best thing about my job is that I get to dress up and pose all the time, just like a model!
You can be described as someone who is career-minded, ambitious and beautiful. However, you were also a teen mother, what advice would you give to other teen mums?
Thank you. I have never heard of that term, but I like to keep this part of my life private and I don't like to talk about my daughter. But what I would say is, I completely believe in destiny. I think everybody has a dream and something they want to achieve, so you should never give up on yourself.
Learn to embrace everything life throws at you and learn to make everything work for you, even your mistakes. Do not give up on your dreams, as long as there is life, there is hope. When you have life, you should make the best of your time because life is too short.
You've been romantically linked with several people, are there any wedding bells in the future?
Yes, I am dating, but there won't be any wedding bells, because I do want to get married. I am looking for someone who can keep me excited because I get bored easily. I need someone, who is there to support me, who is confident. I haven't got the time to be massaging a man's ego; he has to be confident in our relationship from the word-go.
Who is your ideal man?
We all want a handsome man, but ultimately, we want one that is good inside. But I would love to meet someone with a Johnny Depp personality and with Boris Kodjo's lip.
What gets you out of bed in the morning?
The gym, a great work out! I am very restless in the morning, so the gym is somewhere I can get rid of tension. It gets me prepared, both mentally and physically for the rest of the day, which is usually long and tiring. I am not a screamer in the gym, but I like to zone out and plan my daily goals.
I don't see anybody at that point in time. I go into my inner self and put on my earphone listening to music and meditate about my future. I'm what you call a deep thinker. I love to run the most and use the treadmill or steppers as I work mostly on my legs and thighs plus my stomach.
Do you see yourself as sexy and what's the favourite part of your body?
I like to think that I'm sexy, although I don't always feel sexy. I think my waist is my best part. I like my waist because it's small and neat and gives me my hourglass figure.
What has been your favourite role to date?
I have enjoyed playing all the characters in the movies I have done. The Mirror Boy was fun. Ije was another movie, which was great and challenging because it was shot in Hollywood among other Hollywood stars, but I would say my favourite to date is the Window of Glory, where I played the role of a blind girl. I really got into my character and learnt a lot about myself at the same time.
You have starred in more than 100 movies, are there any roles you have not played?
There are still many roles left in me. I'm prepared to try any new thing and challenging roles. I would do any role except porn, no amount of money can get my clothes off.
Finally, the world is your oyster, who would you like to star with?
Johnny Depp. I find him a very deep actor mostly because he represents what I represent; he acts for himself and picks out roles that he enjoys.
It's not about the movie being commercial. He is acting for himself and picks out challenging characters to play. Acting should not be taken too seriously, it should be fun and he doesn't take himself too seriously.