Our daddy is gone Aki and Pawpaw weep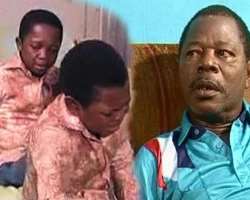 If only tears could bring back the dead, then the famous duo of Aki and Pawpaw (Chinedu Ikedieze and Osita Iheme), would have done that for their departed on-screen dad, Sam Loco-Efe, who died in Owerri, Imo State, on August 7.
Aki and Pawpaw have not stopped weeping and lamenting since the painful death of the iconic entertainer, who starred severally as their screen dad in numerous Nollywood flicks, was made public.
While reacting with tears in his eyes, stunned Aki, who still finds it very difficult to believe that the veteran actor is dead, said he would continue to relish the memories of their on-screen encounters.
"Sincerely speaking, it's still very hard to believe that Marshall is dead. He was someone I learnt a lot from when it comes to script analysis, interpretation and delivery. Marshall was a masterpiece. I will miss him dearly, especially his humour and intelligence. His sense of humour was out of this world, I will miss him dearly," he weeps.
Also lamenting, Aki's twin-brother in Nollywood, Pawpaw in a quaky voice declared that Sam Loco's death was a monumental loss, not only to Nollywood, but the entire entertainment industry globally.
"I'm deeply pained over the death of Marshall. He was a hard working and very nice man. He was somebody that constantly keeps you lively and entertained if you are with him. He inspired me right from the first time we met on the set of my first movie, which I luckily did with him. Marshall will greatly be missed by me because he had no duplicate in the entire acting world. Rest in peace my Marshall," he cries.
In his tempestuous life time, Sam Loco and the Nollywood dynamites thrilled and tantalized movie buffs in many comic blockbusters.
In fact, it is believed that Sam Loco's impact on their careers was one of the things that accelerated their rapid growth in Nollywood.