MINISTER TASKS EKITI ON AGRIC DEVELOPMENT TO BOOST REVENUE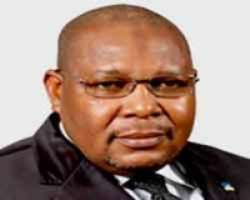 THE Minister of State for Finance, Dr Yerima Ngama, on Tuesday, in Abuja, urged Ekiti State government to embrace farming as a veritable source of internally generated revenue and a tool to boost its economy.
Ngama said that agriculture had always been a source of revenue for the country before and immediately after independence, but expressed regret that the country failed to add value to its agricultural produce.
'The government is coming up with a comprehensive strategy to address the problem of farmers. We are all united in ensuring that agriculture is developed,' Ngama said.
He noted that meetings of the Federation Account Allocation Committee should be regarded as an avenue to exchange ideas and evolve strategies on how to increase internally generated revenue.
Ngama said no economy could afford to spend all it earned and that Nigeria's component states should exploit their natural endowments, noting that for Ekiti State, agriculture and information technology should be the targets.
He assured the state government of his support in facilitating increased agricultural production and congratulated the state for being the first of the 36 states of the federation to set up a Debt Management Office (DMO).
He enjoined the state to be prudent in the handling of its financial affairs.
Responding, the Ekiti State governor, Dr Kayode Fayemi, said that managing the meagre resources of the state was one of the key priorities of his administration.
Fayemi said that partnering with the Federal Ministry of Finance would be of mutual benefit.
The governor said that the state was in the process of setting up its own DMO and that a Bill had been passed in the state's House of Assembly to put effect to the plan.
'My coming to see you is to congratulate you and to also pledge our support and solidarity to your work in the ministry and request your assistance in variety of ways in order to strengthen our own budgetary and financial management systems in Ekiti state. Partnership for us is a process.'