BREAKING NEWS;BIAFRAN WARLORD,ODUMEGWU OJUKWU IS NOT DEAD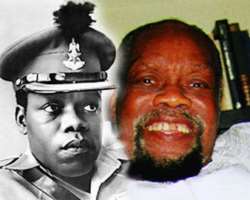 Contrary to the rumours making the rounds that the ailing leader of the defunct Republic of Biafra had passed on,we gathered from a reliable source that is stil alive and recuperating in Royal Berkshire Hospital.
In a telephone chat, Okigbo Odumegwu-Ojukwu, one of Ikemba's children, said "It is not true that my father died."
Mr. Okigbo Odumegwu-Ojukwu resides in London and is constantly in touch with the hospital personnel caring for his father.
click the link below to go to...
BIAFRAN WARLORD OJUKWU SUFFERS SECOND STROKE;IN CRITICAL CONDITION.