MY FATHER DIED OF HIV AIDS.BBA WINNER,KAREN IGHO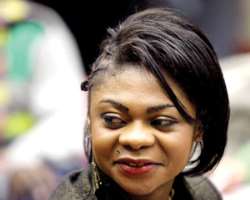 This year's winner of Big Brother Amplified,Karen Igho is arguably one of the most sought after babes in showbiz now.
Karen,who studied Theatre Arts at a London University became popular in the House for her no-nonsense attitude towards other housemates and her charismatic roles in overcoming tasks.
MNET Nigeria presented Karen to the press at Planet One, Ikeja, and below are excerpts from Karen's statements at the press conference:
'I don't really know my father. He married my mother at a very young age but now he is dead. He died of HIV AIDS. I am not ashamed to say it. I wish I saw him to ask him questions, to ask him why he blamed me for things I didn't do. I didn't get the chance to tell him I loved him.'
'The journey wasn't an easy one. Whatever anyone said about me, good or bad, I thank you and I say one love. I had no strategy unlike what most people think. I was just myself.'
'My boobs were never a strategy, when I discovered I had lumps in my breasts, I had removed them and had the boob job done to prevent any further occurrence. It's funny how my mother got to hear on the show. My 17-year-old sister recently discovered lumps in her breasts too'.
'I want people to know that the disease is real. I am going to use part of my winnings to do a massive campaign about this disease.'
'I didn't know I was going to win even though I didn't see anybody as my competitor. My head was straight. I saw everybody as potential winner.
That is why we were in the house in the first place. Anyways, we are all stars.'